/

/

Top 5 Things to Do This Week in The Woodlands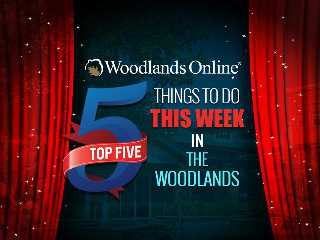 Want to pick up a new skill? Taking photos has become a daily part of our lives and is a very marketable skill at that! Beginning Monday, join Gail Camp for a four-day workshop hosted by the Glade Arts Foundation, where you will learn everything you need to know about becoming a sought-after photographer. Gail will cover camera settings, auto vs. manual, lenses, camera types, posing, lighting, photography styles, legal knowledge, marketing, pricing, websites, advertising, working with hair and makeup artists, editing software, and more.

You've heard of Taco Tuesday. Well it turns out, Tuesday is for novice taco-lovers. Sofy's Taqueria kicks it up a notch by moving it to Friday Jr., also known as (Taco) Thursday. Come stop by and enjoy this homey environment, with excellent service and the best tacos around!

The best things in life are free! In celebration of National Coffee Day, stop in at Another Broken Egg Café on Friday, September 27, to enjoy a free cold brew coffee on the house with any entrée purchase.

Saturday: 21st annual dragon boat racing
https://www.woodlandsonline.com/evps/evitem.cfm?evid=131765
https://www.woodlandsonline.com/cdps/cditem.cfm?nid=1517
On Saturday, stop by Northshore Park and witness the exciting sport of Dragon Boat Racing, all while cheering on your favorite team. Admission is free for spectators and the races go from 8am to noon and again from 2 pm through 6pm at Northshore Park in The Woodlands.

Are you looking for a unique way to spend quality time with your littles? On Sunday, head on over to VillaSpa for Manicure with Mommy, a manicure event designed just for mothers and young kids. Enjoy an Express Manicure while your child gets a polish with fun nail art. Complimentary snacks and refreshments will be provided while you relax, have fun and make memories together.