/

/

Lone Star College hosts Open House at the LSC-Process Technology Center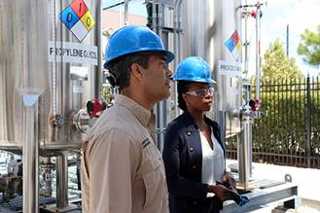 HOUSTON, TX – The petrochemical industry is seeking process and instrumentation technicians that are needed in Texas and the Gulf Coast region.

Lone Star College is showcasing its new state-of-the-art Process Technology Center with an Open House on Sept. 26 that will provide hands-on demonstrations for attendees to experience high-quality training.

"Process technicians can earn $45,000 to $70,000 annually working in oil and gas, petrochemical, and chemical industries right here in the Houston area," said Linda L. Head, senior associate vice chancellor, Division of External & Employer Relations.

The Open House takes place Thursday, Sept. 26 from 3 to 7 p.m. at the LSC-Process Technology Center, located at 14001 Lockwood Road, Houston, TX 77044.

George P. Bush, Texas land commissioner, recently toured the LSC-Process Technology Center to see firsthand the impact that education has on Texas students. He recognized the innovative work being done by LSC.

"This is remarkable," Bush said. "This is going to be a training ground for the future of the energy industry. Technical training provided by programs like this help prepare Texans for high-paying jobs in a growing industry."

"Graduates of the Lone Star College Process Technology program gain the technical skills and knowledge to operate and maintain specialized equipment used in petrochemical plants, refineries, power generation facilities, pharmaceutical plants, and food and beverage processing facilities," said Oscar Ramos, LSC-Kingwood dean.

Additional open houses will be held across Lone Star College to showcase other centers of excellence that offer training in information technology and cybersecurity, energy and manufacturing, and health care.