/

/

Katy Mom & Teacher Wins $5,000 for Driving Undistracted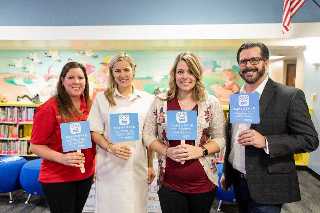 THE WOODLANDS, TX -- The Woodlands Financial Group awarded a check to the grand prize winner of the SAFE 2 SAVE Greater Houston Competition Friday morning.

SAFE 2 SAVE is a free mobile app that rewards users points for undistracted driving that they can redeem at local businesses for free items and discounts. Users can score a free Big Mac from McDonald's, a free Bloomin' Onion from Outback, and more rewards from Dish Society just to name a few. The app is greatly supported by their title sponsor Memorial Hermann Life Flight across Greater Houston.

The competition was open to all Greater Houston residents 18 years or older and ran July 10 to Sept. 23. The grand prize winner was Rachel Hollywood, a first grade teacher at Hutsell Elementary in Katy. Hollywood was selected at random and met the eligibility requirements of accumulating 400 points in the competition and redeemed points at least one time during the competition.

"The engagement of SAFE 2 SAVE users, new and old, affirmed all of the work that our partners on the app, first responders, government officials and our internal team put into educating people about distracted driving" said Christina Rudolph, Vice President of Operations for SAFE 2 SAVE. "We were proud to have TWFG sponsor this Greater Houston competition with such generosity, and proud to align with Memorial Hermann Life Flight to help drive change across Greater Houston."

Another similar competition is already in the works by the SAFE 2 SAVE team. Download the SAFE 2 SAVE app in the App Store + Google Play Store and enter the code itcanwait for 500 automatic bonus points.