/

/

The Woodlands Township Directors John McMullan and John Anthony Brown Endorse Walt Lisiewski in the Upcoming Elections for Director Position No. 7
The Woodlands Township Directors John McMullan and John Anthony Brown Endorse Walt Lisiewski in the Upcoming Elections for Director Position No. 7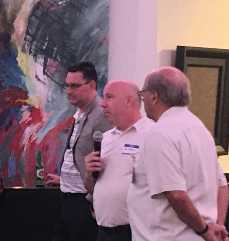 THE WOODLANDS, TX -- Township Director candidate and thirty-year resident Walt Lisiewski announced that he has earned the support and endorsement of current Township Directors John McMullan and John Anthony Brown. Director McMullan opted not to run again for the position that he has occupied for three terms. Director Brown is half way through his second term and will serve with those candidates who are elected on November 5, 2019.
These endorsements are powerful recommendations since both Directors are viewed as independent voices and advocates for the residents.
According to Director McMullan, "Walt is a thoughtful and accomplished leader who, unlike most politicians, possesses a backbone. He's going to do a great job representing our community." Walt readily concedes that he is not a politician. As a volunteer resident, he has served on many of the Township's other governing Boards, including as Chair of the Design Standards Committee (DSC) and Board member on MUD #1.
Director Brown also praised Lisiewski stating 'I have had the privilege to know Walt for the last 5 years in his capacity as MUD director, Panther Creek Village Association representative, and most recently as the DSC Chairman. In all his capacities working in the community, Walt has often had to find creative solutions and work with all parties to achieve a successful resolution. His community dedication and knowledge make him a great candidate to represent our Township. For these reasons I am supporting Walt for position 7.'
Lisiewski responded by saying "I am honored to be recognized by two Township Board Directors that I highly respect. Director McMullan will be sorely missed on the Board and I look forward to continuing to work with Director Brown, either on the Township Board or the DSC. These endorsements are powerful recommendations since both Directors are viewed as independent voices and strong advocates for the residents."
The announcement was made at a celebration of supporters Tuesday evening at Glade Cultural Center. A list of more than 125 residents of The Woodlands was also released at the event and names are being added daily. Last month, The Houston Association of Realtors (HAR) endorsed Lisiewski for Position No.7 stating that he was the most qualified candidate for that Position.
Early voting starts October 21, 2019 and you may vote in The Woodlands or any other Early voting location in your county. Harris County residents can vote Early at Lone Star College – Creekside Center at West New Harmony Trail, Tomball, 77375. Montgomery County residents can vote Early at the South County Community Center at 2235 Lake Robbins Drive, The Woodlands, TX 77380. Please check your Election Day polling location on your county's website.
Walt can be contacted at Lisiewski4Township@gmail.com.