/

/

Houston Methodist The Woodlands Hospital offers new navigational bronchoscopy for early lung cancer detection and treatment
Houston Methodist The Woodlands Hospital offers new navigational bronchoscopy for early lung cancer detection and treatment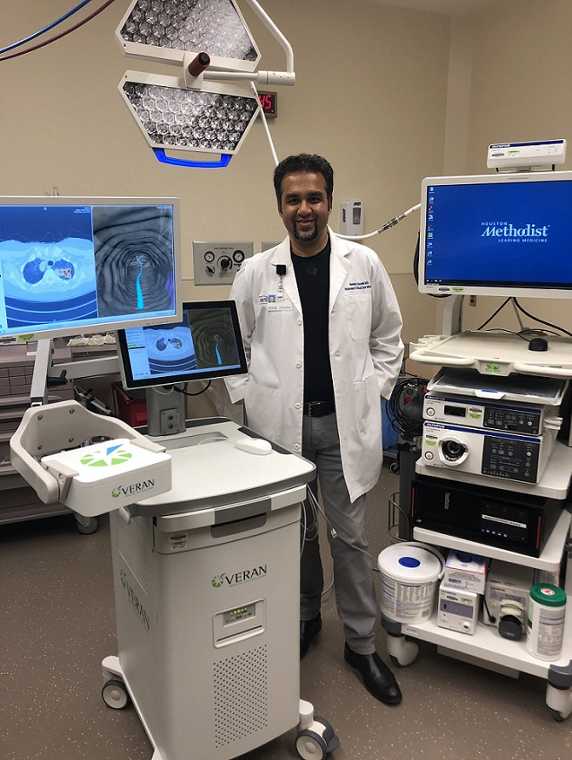 THE WOODLANDS, TX -- Houston Methodist The Woodlands Hospital is using a new electromagnetic tool in the fight against lung cancer, and it's helping cancer experts diagnose the disease earlier, when patients have the best prognosis.

This advanced technology helps guide physicians through the lungs much like a GPS navigation system. It converts CT scans and turns them into 3D virtual maps that physicians use for precisely targeting lesions and navigating the lungs.

"Lung cancer is the most lethal of all cancers," explained Hammad Qureshi, M.D., pulmonologist and medical director of the Intensive Care Unit at Houston Methodist The Woodlands Hospital. "With more than 1,500 miles of airways in the average person, the lungs are complex, and suspicious nodules can be as tiny as the size of a small pea. Locating and obtaining samples to diagnose can pose a significant challenge because these nodules move when a patient breathes."

With navigational bronchoscopy, doctors can track movement and patient breathing 20 times per second to ensure they precisely locate moving targets.

"This allows us to fine-tune the area we focus on and provides us with real-time images to ensure we are taking biopsies in the area of the lung that looks abnormal on the CT scan. Before, we were either using a CT-guided approach from the outside, or we were estimating where the lesion should be based on an X-ray image, which is only a 2D image. The resulting yields were only about 50%," said Qureshi. "We are excited to have this new tool as its clinical studies have demonstrated diagnostic yields of suspicious lesions that exceed 90%, which is a significant advancement. The earlier we catch lung cancer and begin treatment, the less incidence of mortality."

So far, Qureshi and the team at Houston Methodist The Woodlands have examined 43 patients with the new tool and identified 29 cases of lung cancer.

Lung Cancer remains the No. 1 cancer killer worldwide. Ninety-four million current or former smokers remain at elevated risk in the U.S. alone. More than eight million people in the U.S. currently meet the criteria for lung cancer screening.

Qureshi continued, "Every person who is a current or former smoker between the ages of 55 and 74, with significant smoking history, needs to be screened for lung cancer."

Debbie Sukin, CEO, Houston Methodist The Woodlands Hospital, and regional senior vice president, Houston Methodist, added, "We are proud to offer this innovative tool for detecting lung cancer. It's part of our commitment to leading medicine in Montgomery County and providing comprehensive cancer care to ensure the best outcomes for our patients."

To schedule an appointment at Houston Methodist The Woodlands Hospital, call 936.270.3333.