/

/

Upcoming Weather for Montgomery County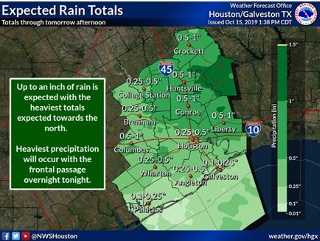 THE WOODLANDS, TX -- A cold front is expected to push through Southeast Texas tonight into tomorrow morning. This front will produce showers and thunderstorms beginning tonight and through the early afternoon tomorrow. The front is expected to move through College Station shortly after midnight, then will move down through Houston by 6am. This front is not as strong as last week's front, but max temperatures tomorrow will still only get into the low to mid 70's.

Additionally, there is a potential topical development in the southern Gulf of Mexico. The potential development is currently located over the Yucatan and is expected to enter the Bay of Campeche in the the next few days. The national Hurricane Center gives this system a 10% chance of development over the the next two days, and a 40% chance of development over the next five days. If this system does form, high pressure over the Caribbean and a low pressure system over the Southern Plains should turn the system to the northeast from the Texas coastline.