Spring Native Jana Richtrova Captures Female 35-39 Title at 2019 Vega IRONMAN World Championships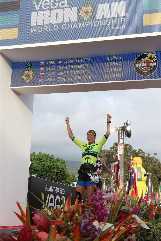 KAILUA-KONA, HI – Jana Richtrova, 39, of Spring, Texas (USA) captured the world championship title in the female age 35-39 age-group at the 2019 Vega IRONMAN® World Championship triathlon in Kailua-Kona, Hawai`i on Saturday, Oct. 12. Nearly 2,500 athletes were registered to compete in the most iconic one-day endurance event in the world as the 2019 Vega IRONMAN World Championship celebrated its 41st year. IRONMAN, a Wanda Sports Group company, celebrated its ever-growing `ohana – a Hawaiian word representing a specially bonded extended family – during the 2019 event as it hosted athletes from 74 countries, regions, and territories around the world.

Richtrova completed the 2019 Vega IRONMAN World Championship event in 9:55:45 (swim: 1:16:02; bike: 4:58:42; run: 3:33:52), beating out the top athletes in her age group. Richtrova competed in the event representing the Czech Republic. The 2019 field of triathletes tackled the ROKA 2.4-mile ocean swim course in Kailua Bay, followed by the Ventum 112-mile bike ride along the Queen Ka'ahumanu Highway from Kailua-Kona to the turnaround in Hawi, capped with a 26.2-mile HOKA ONE ONE run beginning on Ali'i Drive, where spectators packed the roads, up Palani Road to the Queen Ka'ahumanu Highway, before making their way to the infamous The Natural Energy Laboratory of Hawaii Authority. Athletes completed their journey to the roar of thousands of spectators as they crossed the historic Ali`i Drive finish line.

The Vega IRONMAN World Championship is the ultimate and most iconic one-day test of body, mind and spirit, with approximately 95,000 athletes competing to qualify at more than 40 global IRONMAN events each year. Located on the west coast of the Island of Hawai`i, Kailua-Kona offers the perfect year-round climate and is an ideal location for this globally renowned single-day sporting event. Qualification is already underway for the 2020 IRONMAN World Championship. Richtrova's victory at the 2019 Vega IRONMAN World Championship on Saturday earns his/her an automatic bid to the 2020 event, where she will have the chance to defend her title.

Additional race weekend details are available at www.ironman.com/triathlon-news/news.aspx. Full results for the 2019 Vega IRONMAN World Championship women's race can be found at https://www.ironman.com/triathlon/events/americas/ironman/world-championship/results.aspx

For more information about the event, please visit www.ironman.com/worldchampionship. For more information on the IRONMAN brand and global event series, visit www.ironman.com. Media inquiries may be directed to press@ironman.com.