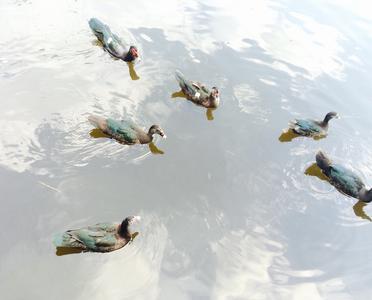 The WOODLANDS, TX, - While hordes of Christmas shoppers will be flocking to malls, Texas Master Naturalists from the Heartwood Chapter will instead be out in the local woods, and waterways taking part in the annual Spring Creek Christmas Bird Count. The effort is part of a global Christmas Bird Count, which is a long-standing effort where volunteers assist the National Audubon Society in an annual bird census.
Local chapter of statewide group to assist Audubon Society in its annual bird census
As part of a statewide corps of trained and dedicated volunteers, who share a love of the outdoors and want to help Mother Nature, master naturalists from the Heartwood Chapter have long been recognized for their work on important local conservation projects, including their key role in the annual bird count.
Held in from mid-December through early January, this year's bird tally will be the 120th consecutive year Audubon has been conducting the evaluation of the bird population, while volunteers from the Heartwood Chapter have been taking part since 1986.
'Several of the local master naturalists act as team leaders for the Christmas Bird Count, helping to identify birds,' said Carolyn Langlinais, president of the Heartwood chapter.
'The public is invited to join our members so that a comprehensive count takes place, adding to over a century of data collected by the Audubon Society,' she said.
Heartwood volunteers will be fanning out during a single day of bird counting across areas in The Woodlands, Jones State Forest, near and around Spring Creek Greenway, Hooks Airport and the ExxonMobil facility on Dec. 14. And weather permitting, volunteers on kayak will also help count birds on a stretch of the San Jacinto River.
Besides taking part in the annual bird count, Heartwood Texas Master Naturalists are also involved in a number of other projects, including maintaining the trees and plants of Jones State Forest, taking part in a massive restoration project in Lake Livingston and restoring hummingbird habitat at Kleb Woods Nature Center in Tomball. Most recently, Heartwood volunteers also helped to cultivate thousands of milkweed plants as part of a massive pollinator project with The Woodlands Township.
For more information on the Spring Creek Christmas Bird Count, or to sign up to volunteer, contact Claire Moore at cdmoore3i@gmail.com or 832-372-5033. Birders of all levels are encouraged to volunteer. For information on other Christmas Bird Counts taking place in Texas, see the Houston Audubon Society web site at https://houstonaudubon.org/birding/christmas-bird-counts/.
About The Heartwood Chapter of the Texas Master Naturalists
The local chapter of the Texas Master Naturalists trains community residents who love the outdoors to volunteer and assist with conservation projects in Montgomery and Walker Counties. Applications are being accepted for a new class in March, though available slots are filling fast. To sign up for the class go to https://txmn.org/heartwood/how-to-join/, or for more information contact Heartwood Training Director Scott Ball at heartwoodtraining@gmail.com.