/

/

SHSU Professor Teaches an Old Dog New Tricks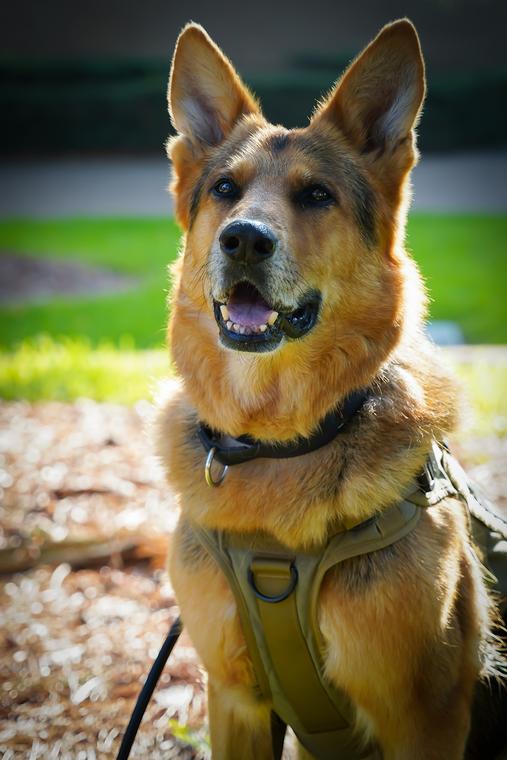 HUNTSVILLE, TX -- A bond between dogs and their owners is something special to see. For Lisa Brown, associate professor in the College of Education, and her dog Ronny, that bond is obvious. Brown's appreciation for the military and her affection for dogs recently led her to Mission K9 Rescue, an organization dedicated to rescuing retired working dogs that served.

As a working dog, Ronny is well trained in receiving commands. Brown will say, "sit," "heel," "down," "speak," or any number of commands and Ronny will attentively listen and obey, always ready to receive his next treat. To the average passerby these interactions do not seem out of the ordinary, but for Ronny these commands are the result of months of hard work between he and Brown.

Ronny spent 8 years clearing hundreds of vehicles a day for the military in Kuwait as a contract working dog. Typically, these dogs are taught commands in a foreign language, and when Ronny was adopted by Brown all his working knowledge was in Dutch. Brown's dedication to education in and out of the classroom saw this challenge as an opportunity. She took her knowledge of English Language Learner (ELL) training and transitioned it to her new best friend to help Ronny understand English commands.

"Well my Dutch is really rusty, as in the non-existent kind of rusty," Brown said. "But when my husband and I decided to get a new dog we thought it would be really special to rescue a retired working dog who served our country. I realized quickly if we could not communicate neither of us would be happy, so I started to think about how I would strategize this situation if it were one of my students."

Brown's ability to teach kicked in right away as she learned how to show an old dog new tricks in a new language. Thanks to months of training by Brown, Ronny is now fluent in three languages – Dutch, English and K9.

"I learned all the Dutch commands I could from Youtube. Then took those commands and made a conversion to English chart for myself." Brown said. "It was important to be able to teach him these commands in English for an emergency situation, because I might not always be the one handling him.

'Brown came to Sam Houston State in 2012 having previously worked at NASA as an aerospace education specialist. A self-described lifelong learner, Brown enjoys teaching and applying her skills to all aspects of her life.

"As a teacher you always want to learn a few basic words in your student's native tongue so you are able to communicate. We also like to make things visual with our students in ELL, and with Ronny I used hand gestures," Brown said. "Many of these things are just what good teachers do anyway so it came natural to me to want him to learn."

Brown says she cannot imagine her life without Ronny and that she has enjoyed the impact he has made on her life. Thanks to Mission K9 Rescue, there are new relationships like Brown's and Ronny's being formed every day.

Since 2013, Mission K9 Rescue has brought over 500 working dogs home from worldwide locations and even reunited many with their former military handlers.