/

/

Woodlands Eco Realty Has a Special Hotline to Santa to Help Ease Holiday Stress
Woodlands Eco Realty Has a Special Hotline to Santa to Help Ease Holiday Stress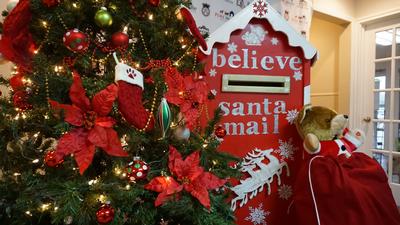 TTHE WOODLANDS, TX -- Owner Priyanka Johri of Woodlands Eco Realty knows intimately the stresses of the holiday season and relocating residences. And when the two happen to occur at the same time, she's ready to help provide relief to parents and children alike. This year, she has set up a special communications pipeline to the North Pole for all residents of The Woodlands area.
Local businesswoman ensures open lines of communication between the North Pole and local families
"I'm pleased to announce to local families that Santa has chosen Woodlands Eco Realty's office as his North Pole Express Mail drop location. Elves are picking up mail every evening to take to North Pole so Santa can read the letters without delay," said Johri.
Johri goes on to explain that "Santa and his elves are very busy and we need to be able to get in touch with our letter-senders' parents to keep them updated on the situation. Naturally, the longer children wait to get us their letters, the harder it will be for Santa and his crew to keep up with demand."
The mailbox was brought to Woodlands Eco Realty by Santa himself, who also recently paid a visit to the offices at the second annual Santa Pawz event where dogs and their owners were treated to entertainment, refreshments, and free photos with the jolly old elf. This annual tradition and fundraiser for Pure Mutts Animal Sanctuary ensures that pet parents also get to take their fur kids to pictures with Santa while helping less fortunate pups.
Families can bring kids to drop their letters in Santa's mailbox at Woodlands Eco Realty office located at 26519 I-45 North, on the southbound feeder between Woodlands Parkway and Sawdust Road during extended holiday business hours.
Additionally, Johri – the broker owner of Woodlands Eco Realty and Realtor – is continuing her tradition of ensuring that Santa finds all the children who have recently moved to a new home. "I heard from many young children of my clients how concerned they are that Santa might not be able to find their new house," said Johri. "So I made sure to give him a list of all those children so that he could reach out before Christmas Eve and assure those children that he'll find them."
These services and events – as well as Johri's daily "Elf on the Shelf" humorous memes that she posts on her Facebook page to help out stressed out parents – serve to lessen the holiday stress on home-sellers and home-buyers during this hectic holiday season.
About Woodlands Eco Realty
Woodlands Eco Realty is located at 26519 Interstate 45 N, The Woodlands, TX 77380. For more information, call 832-277-3577 or visit www.WoodlandsEcoRealty.com.