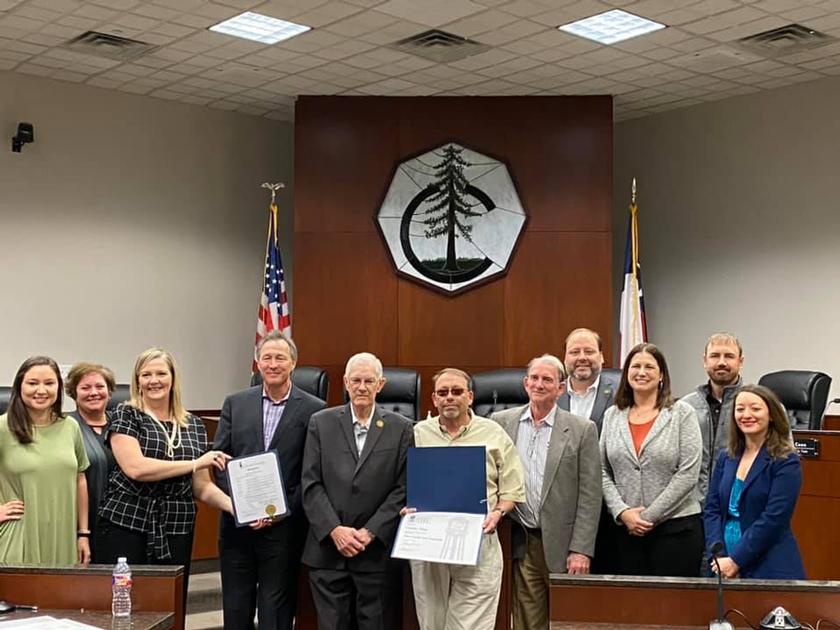 CONROE, TX – Lindsey Ashley with The Texas Film Friendly Office, Office of the Governor presented Visit Conroe with the Film Friendly Designation at Council Chambers in Conroe Tower on Tuesday, February 25 @ 11AM. Mayor Toby Powell read a proclamation for the event. Jodi Willard spoke about how Visit Conroe will use this designation as another way to promote Conroe.

Visit Conroe has worked closely with the Governor's Office to highlight Conroe's unique landscape to film makers worldwide. On November 22, 2019, Conroe was approved to become the newest Texas City to receive the designation. Visit Conroe is 1 of only 9 cities in the state to hold both Texas Music Friendly and Texas Film Friendly Designations.

A small reception was held celebrating Conroe's new Film Friendly Designation after the designation and proclamation ceremony.

Abbott announced in a press release Nov. 22 via the Texas Film Commission that Conroe joined the more than 130 other film friendly communities in Texas. "Texas has much to offer, and through the Film Friendly Texas training and certification process, communities large and small are readied to help match local businesses with production-related needs, creating jobs for Texas-based crew members and local residents as well as spurring on-site spending at local small businesses," Abbott said. "And I am proud of all that the Texas Film Commission has accomplished in helping communities like Conroe to grow their local economy.'

Visit Conroe promotes tourism in Conroe highlighting five pillars; Arts & Culture, Culinary, Music, The Great Outdoors and Texas History. The Texas Film Commission has generated $1.5 billion in local spending and created more than 154,000 production jobs from 2007 to 2019.