/

/

Miles for Meals supplies nearly 10,000 meals for Homebound Seniors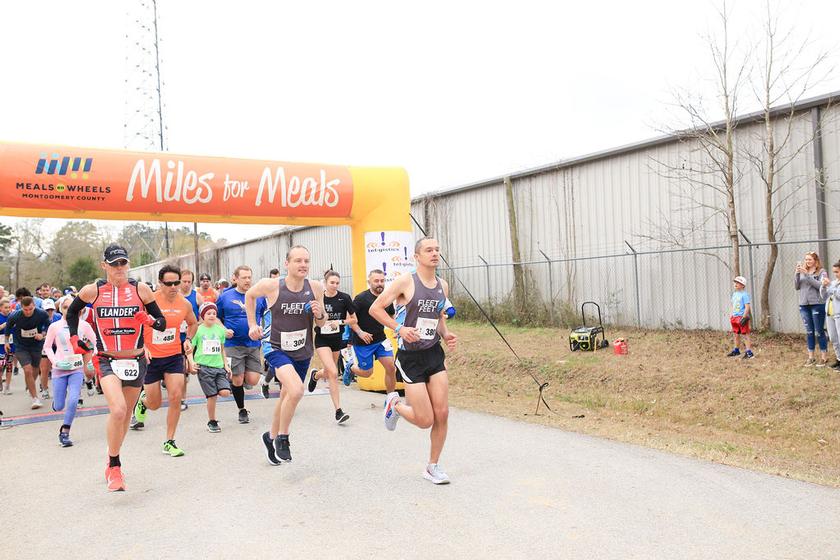 CONROE, TX - The race day conditions were perfect for runners, walkers and families at the 4th Annual Miles for Meals 5K -10K at B52 Brewery in Conroe. New this year was a 10K-(6.2 miles) with 90 runners competing in a chip timed race. Mark Amann of Conroe blew the field away with a blistering time of 34:53.8. Kendall Schmidt, also of Conroe, was the first female 10K finisher with a time of 44:42.7.

Miles for Meals benefits local seniors in our community. Ms. Joy looks forward to her daily visit from her meal delivery volunteer as she can no longer prepare meals. Mr. Denny, a Vietnam Vet, said "The Meals on Wheels people have done a lot for me; you saved my life…you fed me. Before I contacted you, I had nothing…I had no food to eat."

Miles for Meals was presented by Kevin Baker Homes and Real Estate, and Kevin Baker, a runner himself, won the 5K race with a time of 19:21:9 against 467 participating runners. Britani Gonzales took first place in the female division of the 5K and placed second overall in the race with a time of 20:10.5.

"Miles for Meals is an annual fundraiser to better the lives of home-bound seniors and what's unique about this event is that many of our volunteers who are seniors themselves, help out and run in it," stated Summer Day, Executive Director of Meals on Wheels. "Mr. Jim, our oldest meal delivery volunteer is 84 years old and has run the race for the past several years. He came in first in his age group and 80th overall in the men's division."

The course went through neighborhoods in Conroe starting and finishing at the six-acre wooded biergarten of B-52 Brewing Company, a craft beer venue with food trucks serving before and after the race. Finishers received a t-shirt, finishers medal, a signature pint mug glass and two free B-52 craft beers (or lemonade).

Meals on Wheels is very grateful to Kevin Baker Homes and Real Estate, Keller Williams and the many other community sponsors that contributed to the success of the event: Global Shop, Teligistics, Mussali Law, Hallaron, RRC Medical, The Woodlands Dermatology Associates, Sterling Ridge Cosmetic & Family Dentistry, Encompass Health, H-E-B, Travis Hird MD, OrangeTheory Fitness Conroe, Pathfinder Health, Hotworx, Wendell Legacy Homes, Ace Fence, Top Golf, Renewal by Anderson, Dentists of Montgomery and Homelight.

This was a family event with strollers, walkers, and dogs helping Meals on Wheels of Montgomery County to reach their goal of assisting home-bound seniors with food, transportation services, and compassionate care in our local community.

Congratulations to the top overall and age division winners.

10K Top Men: Mark Amann, Conroe, Chase Seamans, Conroe, Christopher Wilson, Conroe

10K Top Women: Kendall Schmidt, Conroe, Kyla Fuller, Montgomery (only 15 years old!), Crystal Sathyaraj, Spring

5K Top Men: Kevin Baker, The Woodlands, Eric Solberg, Spring, John Robertson, Conroe

5K Top Women: Britani Gonzales, Conroe, Tiffini Lilley, Coldspring, and Gracie Lile of The Woodlands (who is only 12 years old!)

For full results, please click here.

Since 1973, MOWMC has had a successful track record of delivering meals to local home-bound seniors, currently delivering 31,000 meals weekly. Volunteers deliver meals along 81 routes throughout the 1,000 square miles of Montgomery County. As Baby Boomers become seniors, demand continues to increase. Seniors in need of meals are added to the waiting list each month. Additionally, MOWMC's curb-to-curb transportation service provides more than 17,000 rides to the disabled and seniors annually. With a mission to foster independence and maintain the dignity of each home-bound senior by providing nutritious meals, transportation, and caring connections, MOWMC can always use additional volunteers and donations.

More information about Meals on Wheels Montgomery County can be found at www.mowmc.org.