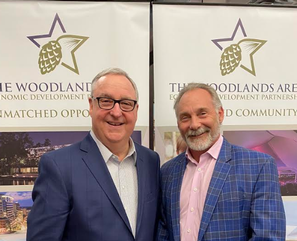 THE WOODLANDS, TX - Bret L. Strong, founder and managing shareholder of The Strong Firm P.C., and active and long-standing community leader for 30 years, has been appointed to the board of The Woodlands Area Economic Development Partnership (EDP).

Strong is a 2014 Hometown Hero with a long-standing reputation of supporting The Woodlands Area and Montgomery County businesses, adding EPD Board Member to an impressive list of board service, and community and civic involvement. The EDP was established in 1997 and is on a mission to enhance the business community and economic vitality in The Woodlands Area by bringing new companies to the area and making concerted efforts at supporting job growth and retention for local businesses. Strong said he is "Committed to investing time and resources to enhance the growth and upward trajectory of the already robust economy and business community in The Woodlands Area."

With the firm's extensive expertise on business matters, specifically regarding businesses located in The Woodlands, The Strong Firm P.C. has a reputation in the community serving the local entrepreneurs and businesses, and, therefore, adding a Silver Partner membership with The EDP is a natural fit for the firm.

The Strong Firm P.C. is a locally-owned and operated business law firm founded in 2004

in The Woodlands which specializes in all aspects of business law including real estate; oil, gas and energy; mergers, acquisitions and sales; business law and contracts; corporations, LLCs and partnerships; trusts and estate planning; commercial disputes; lending and borrowing; trademarks; employment law; and business mediation. For eleven consecutive years, The Strong Firm P.C. has been voted the "Best Attorney, Lawyer & Legal Services in The Woodlands," and the firm maintains its dedication to providing a level of service that is unmatched.

In addition to Bret L. Strong, the firm's team of attorneys includes Eric R. Thiergood, Sr., Shareholder; Brian Albert, Shareholder; Laura F. Dumas, Of Counsel; Kristen Bates, Senior Associate; Brittany Sloan, Associate Attorney; April Walter, Of Counsel, and Cody Schlegel, Associate Attorney.

The Strong Firm P.C. serves individuals and businesses in The Woodlands and the Greater Houston area as well as clients around the country and the world.

The Strong Firm P.C. is located in The Woodlands at the Two Hughes Landing building overlooking Lake Woodlands at 1790 Hughes Landing Boulevard. For more information, call 281-367-1222 or visit the firm's website at www.thestrongfirm.com.