/

/

Local Tutoring Company Donates Over 400 Tutoring Hours Amidst COVID-19 School Closures
Local Tutoring Company Donates Over 400 Tutoring Hours Amidst COVID-19 School Closures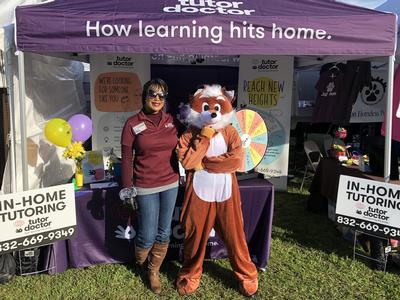 THE WOODLANDS, TX -- Parents watched in disbelief as school districts across the country announced the school closures due to the coronavirus. Teachers, school staff, and principals leaped into action and frantically created remote learning platforms for students who were now confined to their homes.
Small business donates hours of online test prep classes during school closures
Students and parents had to adapt not only to online teaching methods but also to overcome the lockdown as mandated by government officials.
Lydia Newsom, the owner of Tutor Doctor Rayford and a Montgomery County resident, watched as events unfolded and wondered how the local tutoring company could help students in her community during this trying time. She was also concerned about the tutors who work with the company and aimed to keep these local educators employed as workers over the city were mandated to stay home.
Most of the company's educators met with their students in person but were eager to continue teaching students online amidst the current state of affairs. Tutor Doctor Rayford has always provided online tutoring, so shifting to virtual learning proved to be a smooth transition.
After learning of the in-person test prep programs being canceled, Lydia offered complimentary online SAT test prep classes to students in her community as well as surrounding areas. The free sessions were well received by both students and parents. The Facebook and Instagram posts announcing the classes had over 800 engagements. Over 400 hours were donated to students by Tutor Doctor Rayford saving the families hundreds of dollars.
"Thank you so much for the class. Will you offer it again?" asked Jen, a parent of a student who attended the classes.
Here is some feedback from some of the students who participated in the free courses:
"I learned so much from the classes, and I am confident that my scores will increase."
"The tutors tried to make sure every student understood and taught the concepts in a way that made it easy to comprehend - even confusing topics."
"I am thankful that I was able to take the classes to help me prep for the SAT for free."
Even though the College Board has rescheduled the SAT exams, it is advised that students continue with their test prep and sit for the exam when the new test dates are announced by College Board. Even though some colleges are waiving the test requirements, taking an exam could improve a student's candidacy.
Tutor Doctor Rayford also offered free virtual proctored SAT and ACT practice tests.
"With all of the different challenges that schooling at home brings, many parents are looking to outside help with their children's educational success," said Lydia Newsom. "I remain committed to continuing to play a vital role in the academic success of as many children and adults as I can."
About Tutor Doctor
Tutor Doctor is the leader in one-on-one in-home and online private tutoring. Tutor Doctor is recommended by more than 95% of all former students. With over 200,000 individuals helped in 15+ countries around the globe, Tutor Doctor has a proven track record of success. Tutor Doctor was named the No. 1 In-Home Tutoring Franchise by Entrepreneur Magazine in 2018 and founded as an alternative to the "one-to-many" teaching model most extra-curricular learning centers offer.
Website: www.tutordoctor.com/rayford