/

/

Churches Respond to Tragic Events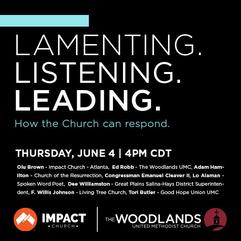 THE WOODLANDS, TX -- The Woodlands United Methodist Church is partnering with churches nationwide to host a webinar and a prayer gathering in response to the tragic death of George Floyd and the ensuing events around the country. We invite the community to join us for both events.

The webinar hosted The Woodlands UMC and Impact Church of Atlanta, Georgia is planned for Thursday, June 4 at 4:00 p.m. CDT on "Lamenting. Listening. Leading: How the Church Can Respond." A panel of church leaders from around the country will come together to discuss how the church can respond as we seek justice and peace. The panel includes Olu Brown, Impact Church in Atlanta, Georgia; Ed Robb, The Woodlands United Methodist Church; Adam Hamilton, Church of the Resurrection; Congressman Emanuel Cleaver II; Lo Alaman, Spoken Word Poet; Dee Williamston, Great Plains Salina – Hayes District Superintendent; F. Willis Johnson, Living Tree Church; and Tori Butler, Good Hope Union UMC

Register for the webinar at https://us02web.zoom.us/j/81599287362

Following the webinar, the church, together with Impact Church of The Woodlands, will lead an outdoor Prayer Gathering for Justice and for Peace. All participants will meet at 7:00 p.m. on Thursday, June 4 at the The Woodlands UMC Fairway for a time of reflection and prayer.

We invite the community to join us for this Prayer Gathering. We will be following protocols and best practices as we are mindful of the continuing coronavirus concern.