/

/

Woodlands Area Pastor in Need of Prayers and Support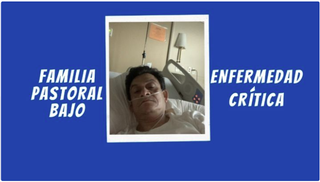 THE WOODLANDS, TX - A Woodlands area Pastor is in need of your prayers and support as he battles a critical illness.

Pastor Luis De La Cruz of Iglesia de Dios del Evangelio completo, or IDEC, which is located on Rayford Road, has had a history of delicate health issues. Thought to be COVID-19, he was tested and the test came back negative.

Pastor De La Cruz was battling his symptoms at home and while he was being cared for by his family, the family also started feeling ill. When his condition worsened, he was taken to the hospital, as his family stayed behind at home. His wife and daughter also exhibited symptoms, but theirs were not as severe.

A GoFundMe page has been established to assist with the family's medical costs and living expenses. From the GoFundMe page:

Pastor Luis De La Cruz and his family are going through a critical illness and are currently seriously ill. Thank you in advance for your collaboration, any help will be very blessing.

God bless you for your generosity.

Let us therefore approach the throne of grace confidently, to seek mercy and find grace for timely help (Heb 4:16).

To assist the family in their time of need, please visit their GoFundMe page here.