/

/

Your Destination Wedding Location is Just an Hour North of Houston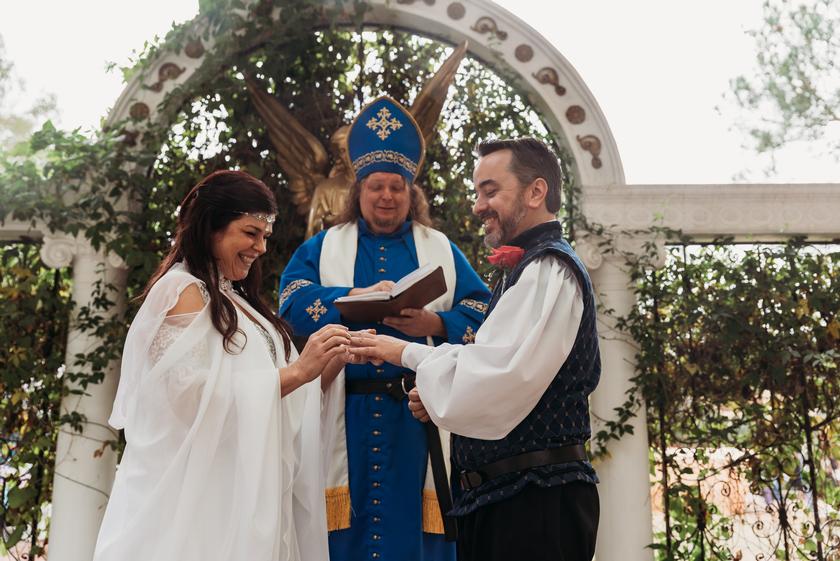 TODD MISSION, TX - Beautiful green ivy cascades down the outer walls of the Wedding Chapel, the fountains in the Water Garden sing with a mesmerizing hum, and the sun gleams through the colorful stained glass of The Basilica. The English and Rose Gardens round out the five open air venues that are available at the Texas Renaissance Festival for weddings, commitment and hand fasting ceremonies and vow renewals. Located just one hour north of Houston, the venues can accommodate a small intimate party to larger celebrations while following social distancing and safety guidelines.

All wedding venues and reception areas are located within the festival grounds, so the wedding party and guests can enjoy the ambiance of the 16 th century Village of New Market while celebrating their special occasion.

The TRF Wedding Team takes the stress out of planning a wedding by offering several wedding packages that include pastoral services, music, flowers, carriage rides and catering at the two reception areas – The Lady Rose Pavilion and The Italian Village, who provide delectable delights for parties of varying sizes.

There are open dates for weddings this season, and a busy season is expected in 2021 as dates are filling up quickly.

The Texas Renaissance Festival can also assist in planning and hosting other special events such as proposals, bachelor and bachelorette parties, birthday parties, team building and family reunions.

To find out more about wedding and special event packages, contact our wedding team at weddings@texrenfest.com, call 281-356-2178 and visit our website at www.texrenfest.com for more information and to see our 2020 Safety Guidelines.