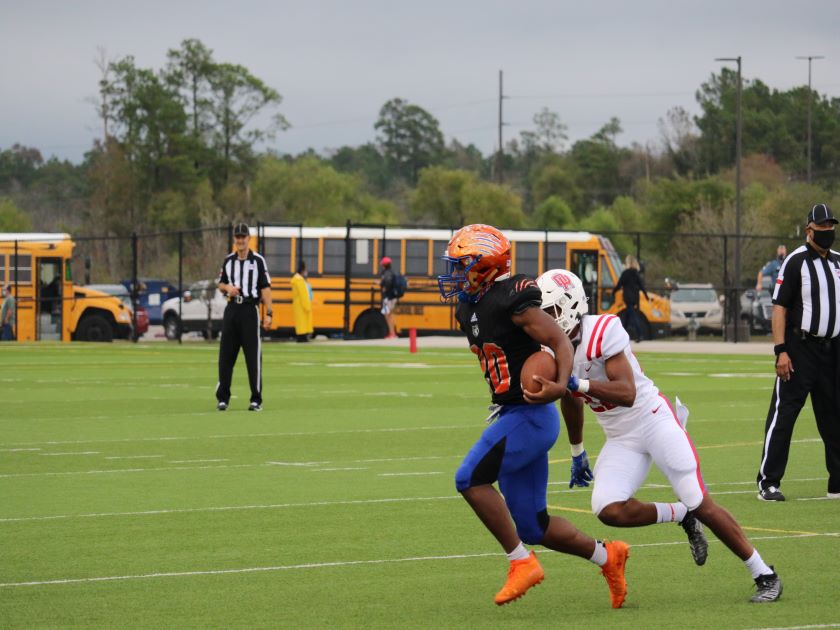 THE WOODLANDS, TX -- The Grizzlies have waited three years for the opportunity to take on their new rival, the Oak Ridge War Eagles. Grand Oaks made the most of the opportunity, beating the War Eagles 32-28.


It was a scrappy and resilient effort to pick up the win over the established rival on Friday afternoon. Grand Oaks tied the game twice in the first half before jumping out to a 15-point lead and holding off a late push by Oak Ridge.
Midway through the first quarter, Oak Ridge struck first on a
22-yard 4th down TD
from Steve Smedley to Scott Hickey to take the first lead. Grand Oaks opened the second quarter with a wheel route to Seth Wright to
tie the game at seven
. Great runs by Oak Ridge RB
Alton McCaskill
and Grand Oaks RB
Brandon High
sent the game into halftime tied at 14.
Bad weather in the area caused a delay that lasted over an hour, creating a very extended halftime break.
The Grizzlies seemed like the team that handled the delay better. Grand Oaks was the more focused and energetic team in the second half and that's what allowed them to open up a lead and really apply pressure to their rival.
With 7:30 to go in the third quarter, Grizzlies QB James Holmon rolled out to his right, pulled the ball down, and scrambled around multiple defenders to take their
first lead of the game
.
On the following Oak Ridge possession, Grand Oaks DL Robert Skinner made the
play of the day
to extend the Grizzlies lead. Skinner deflected a pass, then caught it, to run it back for a pick-six. Grand Oaks added a two-point conversion to take a 29-14 lead late in the quarter.
McCaskill quickly cut the deficit back to a one-score game with a
60-yard TD
. Grand Oaks would settle for a
27-yard field goal
by Grant Nickel before Oak Ridge RB
Jahron Jonas scored
to cut the deficit to four. Oak Ridge attempted to put together a game-winning 99-yard drive but a
fourth-down stop
by Grand Oaks secured their second win of the year.
Grand Oaks and Oak Ridge are now tied at 2-3 in district 13-6A. Saturday's Willis-Conroe game will determine who takes the final two playoff spots in the district. A Conroe win will send Grand Oaks and Oak Ridge to the playoffs, while a Willis win will send Oak Ridge and Willis into the postseason.
In the win, Grand Oaks RBs Micah Cooper and Brandon High rushed for 154 yards and 126 yards respectively, and a TD each. Oak Ridge RB Alton McCaskill rushed for 194 yards and two TDs.