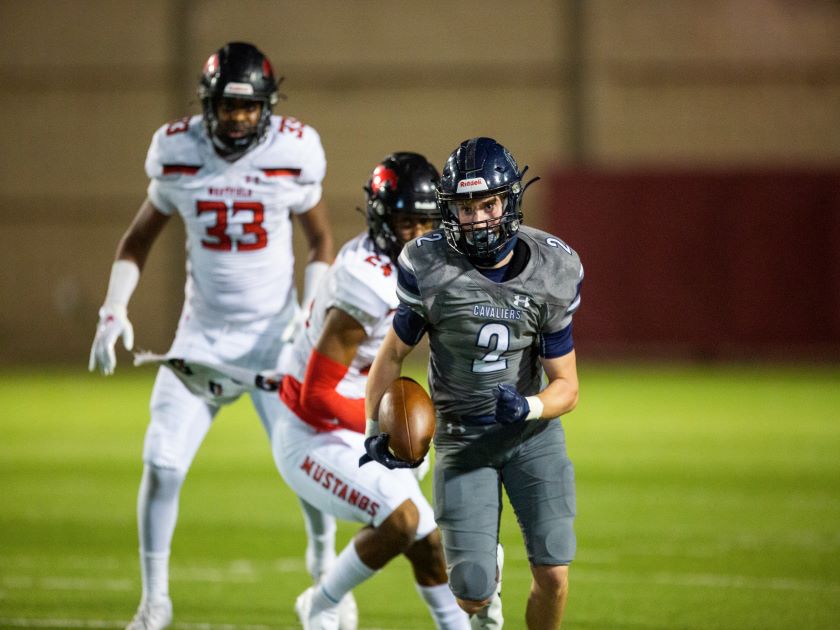 THE WOODLANDS, TX -- College Park had a tough night, as many teams do, against state-ranked #17 Westfield. The Cavaliers fell 33-7 to the Mustangs in the bi-district round of the UIL 6A DI football playoffs.

Despite the score, the College Park defense deserves praise for how they performed for most of the game. Westfield is a talented team that brings an explosive offense to the table. However, the Cavs defense was able to overcome being put in multiple tough situations and held the Mustangs to just a 13-0 lead at the half.

College Park forced Westfield to settle for a field goal on the opening drive. CP LB Dylan Hazen's nice open-field tackle ended what was a promising first drive.

The College Park offense struggled all night against the Mustang defense. The Cavs failed to advance the ball past midfield in the first half, which meant CP was unable to capitalize on the fumble recovered by Hazen on Westfield's second possession.

After another College Park punt, the Mustangs put together a nice drive sparked by Westfield WR Kevin Graham's playmaking abilities. With 9:26 to go in the half, Westfield QB Cardell Williams scored on a short run inside the five to score the game's first TD.

Westfield settled for another field goal, then had another blocked by CP DB Curt Evangelister. LB Brett Lane picked off Williams at the end of the half to keep College Park's deficit at 13 after two quarters.

Freshman WR Conner Dunphy was the lone bright spot for the Cavaliers' offense throughout the night. Dunphy finally brought the Cavaliers into Westfield territory with a nice run on the first drive of the second half. When that drive stalled out on fourth down on the outskirts of the red zone, the College Park defense stepped up once again. LB Harrison Helton picked off Westfield and the return set up the Cavs with a first and goal inside the five.

Conner Dunphy and the CP offense took advantage of the great field position and cashed in with a two-yard touchdown run to cut Westfield's lead to six midway through the third quarter.

It looked like the Cavaliers had life, but Westfield answered with a six-yard touchdown from Williams to TE Dominic Bailey to retake a two-score lead.

At the start of the fourth quarter, Westfield finally took the top off the defense with a 75-yard TD pass from Williams to WR Nathan Lewis. A pick-six midway through the fourth quarter sealed the deal on the Westfield victory.

Led by Coach Madison's first senior class, the 2020 College Park Cavaliers finished their season with an 8-2 overall record, their best finish since 2007. College Park also went 5-0 in District 13-6A, including their first win over The Woodlands since 2007, to win the school's first district championship.