/

/

USO style Entertainment this Christmas at Holiday In The Woodlands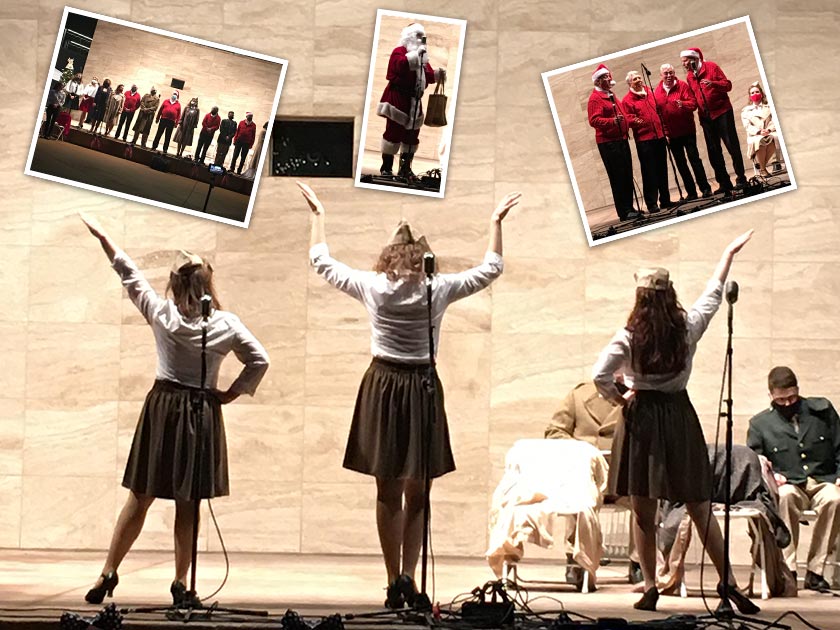 THE WOODLANDS, TX -- Saturday evening on December 19, Points North Theatre, located at 1540 Sawdust Road in The Woodlands in conjunction with The Woodlands Township and The Woodlands Jazz Orchestra brought to the community a Christmas show to remember. Called 'HOLIDAYS IN THE WOODLANDS' Points North Theatre put on an original 1940s USO-style musical revue at Waterway Square. From the singing, dancing, and military costumes to the 40's style radio news, commercial announcements and big band music, the community was transported back to Christmas Eve, December 24, 1944 to a USO show that was performing live to support and entertain our fighting men (and women!) on the Western Front.

Music from great entertainers of the time like Glenn Miller, Count Basie, Etta James and Bing Crosby as well as others could be heard. Santa himself was also on hand to greet the troops and the guests.

HOLIDAYS IN THE WOODLANDS was an original musical revue written by Sean K. Thompson and was directed by Johnny Barton, with music direction by Brandon Tanner and live music provided by Darryl Bayer and The Woodlands Jazz Orchestra. It featured Betsy Fisher, Lindsey Steel, Kristen Joy Malisewski, Ryan Dineen, Kevyn Eddie, Sam Sigman, Kenneth Grissom, Hannah Gilchriest, Casey Radle, Brooke Hale, and Peyton Wilkinson, with special appearances by MaryAnna Nagorski, Grandma's Boyfriends Barbershop Quartet, and Crystyl Mary Swanson.

Click here to view photo gallery

You can learn more about Points North Theatre Company and their upcoming productions by going to PointsNorthTheatre.org.

Click here to check out our events calendar to see what other great Christmas events are happening here in The Woodlands.