/

/

2021 Is Off To A Busy Start for Montgomery County PCT 4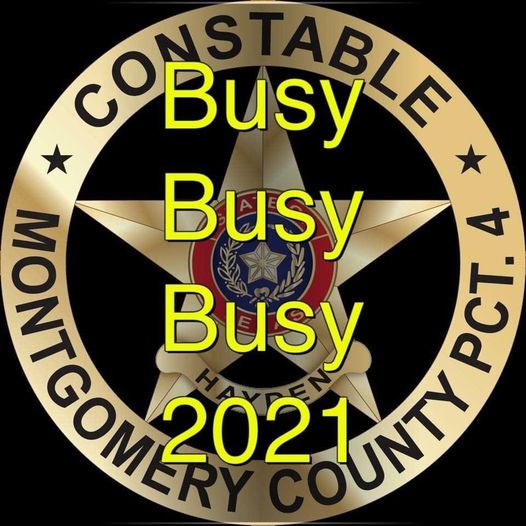 MONTGOMERY COUNTY, TX -- 2021 is just getting started, and Montgomery County PCT 4 Constable Hayden and his Deputies have begun the year the same way they ended 2020…serving East Montgomery County by gathering up warrants, arresting drunk drivers, taking narcotics off the streets, assisting other agencies and engaging the community.

PCT 4 Deputies were still patrolling neighborhoods and responding to calls as celebrating citizens said goodbye to 2020. And in just the first 48 hours of the new year alone, PCT 4 logged 6 Narcotics arrests, 6 DWIs, another for Unauthorized Use of a Motor Vehicle (stolen pickup truck recovered), and collected a couple on outstanding warrants. You can actually see a more extensive list of the arrests made by PCT 4 in our new bi-weekly blotter that will begin publishing on Monday, January 18.

Deputies patrolling in and around local retail stores through the East Montgomery County Improvement District's Safe Shopper Program continued to provide security to consumers and businesses through proactive policing and visibility. Rapid responses to calls, as well as working relationships with employees, led to multiple arrests for theft (among other charges), not to mention the overall deterrent a patrol unit rolling through a parking lot provides.

The PCT 4 specialty units have also been very busy so far in January, especially K9 Kodiak. He has been deployed multiple times on traffic stops, as well as to assist with the location and apprehension of multiple suspects. These arrests included a warrant service for Continuous Sexual Assault of a Child, a vehicle theft suspect who ran from MCSO Deputies on foot, and the driver in a vehicle pursuit that began in Splendora. The Special Response Team (SRT) also assisted the Texas Rangers in apprehending a murder suspect from Polk County last week.

Being deployed alongside Deputies and the other specialty units already this year has been the newly formed Drone Team. The Drone Team consists of 10 unmanned aircraft licensed Deputies, along with the newest member of the PCT 4 family, Eagle 1. The addition of the Drone Team and Eagle 1 will allow PCT 4 to offer protection from a higher level to EMC. Look for information coming soon on the specifics of this invaluable asset. Already the drone has been used as over-watch of arrests of suspects selling temporary license plates online as well as the apprehension of several wanted suspects, including one in Cleveland, TX from a murder in the Livingston PD jurisdiction.

Just last week an attempt to locate was broadcast on our police radios; it stated a vehicle had been stolen in Cleveland, TX and the vehicle was still occupied by a small child. Shortly after a phone call came into our dispatch stating someone had just walked up to their car, saying "there is a kid in that car", pointing to a car in the parking lot of a daycare, then ran away. Our deputies were first on scene and quickly identified the vehicle as the one stolen from Cleveland. The Deputy quickly went to the aid of the small child, consoling her and immediately got Cleveland PD enroute to the location with the parents. Shortly after the Montgomery County Sheriff's Office located the suspect hiding under some bushes nearby; both agencies quickly took the suspect in custody and turned him over to Cleveland PD for the prosecution of aggravated kidnapping and unauthorized use of a motor vehicle charges.

Through the use of both previously learned and newly acquired skills and/or tools, the Office of Constable Kenneth "Rowdy" Hayden will continue to serve the East Montgomery County area to the best of its ability.