HS Basketball Scoreboard: College Park boys clinch top seed; Oak Ridge girls win fifth-straight district title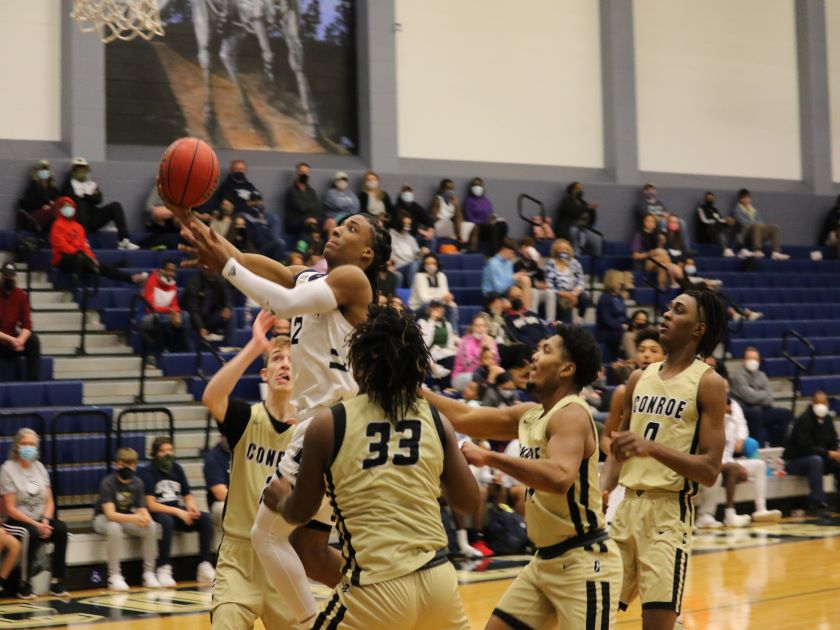 THE WOODLANDS, TX --

Boys Basketball

College Park 72, Conroe 58

The Cavaliers add another season sweep to their resume and have now clinched the number one seed in District 13-6A. Ty Buckmon was the WOL Sports Player of the Game, leading the Cavs to their 14th straight win with 18 points, six rebounds, two assists, and two steals.


Credit to Conroe for turning what looked like another comfortable victory for CP into an exciting game down the stretch. A Kamari Weatherspoon (18 pts) three-pointer cut College Park's lead down to nine with under three minutes to play, but the Cavaliers were able to get the stops they needed to avoid the last-minute comeback.
The loss keeps Conroe in a multi-team tie for the third-place spot with three games to go.
College Park (21-3 / 12-0) Next Game: vs Oak Ridge - 2/5
Conroe (8-13 / 5-7) Next Game: vs The Woodlands - 2/5
Oak Ridge 51, Willis 44

The War Eagles picked up an important win on the road at Willis. After completing the season sweep of the Wildkats, Oak Ridge moves into a tie with Conroe and Grand Oaks for the three seed in the district.
Ian Egele and Brenden Doucette were the leading scorers for The Ridge with 12 points each.
Oak Ridge (11-13 / 5-7) Next Game: @ College Park - 2/5
Willis (2-22 / 0-12) Next Game: @ Grand Oaks - 2/5
The Woodlands 69, Grand Oaks 46
The Highlanders have won their last three games and have now locked up the two seed in District 13-6A.
The Woodlands (18-6 / 9-3) Next Game: @ Conroe - 2/5
Grand Oaks (11-12 / 5-7) Next Game: vs Willis - 2/5
Girls Basketball

Oak Ridge 73, Willis 34
The War Eagles won comfortably on Tuesday, then cut down the nets after the game to celebrate their fifth-straight district title. Emei St. Laurent led Oak Ridge with 19 points in the season finale. The Ridge finished the regular season on an eight-game winning streak, with an overall record of 23-3 and 9-1 in district play.
As the one seed, Oak Ridge will look to improve on their playoff performance from last season. The 2019 War Eagles season came to an end in the area round in a close loss to Langham Creek.
Grand Oaks 69, The Woodlands 42
The Grizzlies get back into the win column on the final night of the regular season. Due to the postponement of College Park vs Conroe, Grand Oaks' playoff seed isn't yet determined. However, at 7-3 in District 13-6A, the Grizzlies will be no lower than the three seed.