/

/

Inspiration Ranch Receives Major Gift from Waste Connections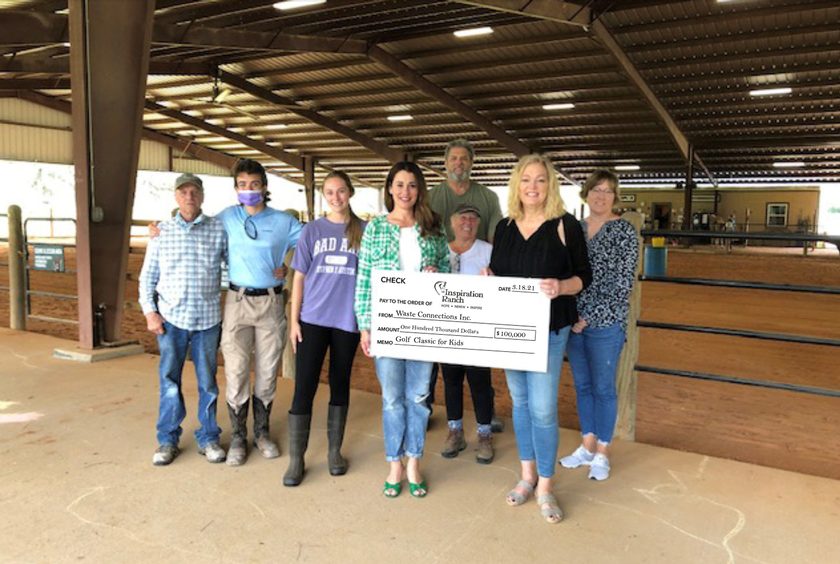 MAGNOLIA, TX - This week, Waste Connections Executive Director of Engagement Solutions/HRIS, Michelle Little, presented Inspiration Ranch's staff with a check for $100,000 from the 13th Annual Golf Classic for Kids.

Waste Connections measures the success of its company by having a positive impact on the community, and its employees support organizations in the communities where it has a presence through volunteerism, fundraising, and direct donations. For nine years, Inspiration Ranch has been a beneficiary of the company's generosity.

"Waste Connections' support has meant hundreds of therapeutic riding sessions have been offered on scholarship so that no special needs child goes without its benefits based on their family's financial situation," says Inspiration Ranch VP of Development Sheila Greaver.

Inspiration Ranch's Equine-Assisted Therapeutic Riding clients struggle with an array of physical, emotional, and cognitive disabilities. Therapeutic riding helps with a wide range of disabilities by strengthening core muscles, building lung strength, developing hand-eye coordination, and stimulating cognitive growth. Currently, the Ranch serves 46 clients each week with 34 different diagnoses through this program and has more than 50 potential clients on a waitlist for services.

Each client has unique needs. Through customized riding sessions and their partnership with a horse, clients improve balance and motor control, reduce the severity of sensory disorders, improve social and behavioral skills, and build physical and cognitive abilities. First steps, first words, and first friendships happen regularly at Inspiration Ranch and are made possible by its financial supporters.

As an organization committed to serving its clients, Inspiration Ranch turns no one away for financial reasons. All sessions are subsidized, and if a family cannot afford the Ranch's reduced fees, they are offered further scholarship assistance. These scholarships are funded through corporate gifts like this one from Waste Connections, private donations, and grant funding.

In 2021, Inspiration Ranch will expand its Equine-Assisted Therapeutic Riding Program to serve 125 special needs clients.