/

/

Finding Something Precious In The History and Future of Montgomery County's "Miracle City"
Finding Something Precious In The History and Future of Montgomery County's "Miracle City"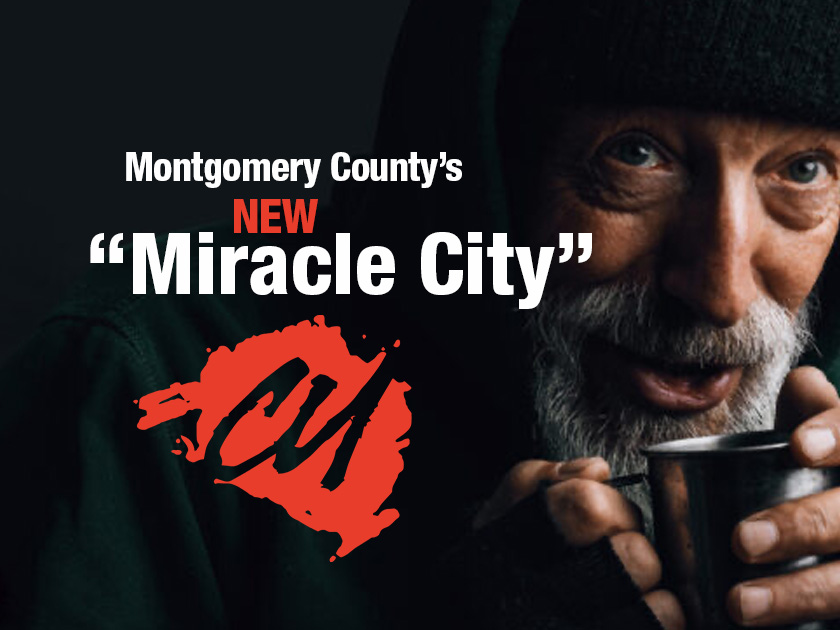 THE WOODLANDS, TX - There are many periods in Montgomery County history that seem to fly under the radar. They have a great significance in forming the tapestry of our community, but might not be something that the average resident has really heard of before. The new Miracle City being built in Conroe by Compassion United may be one of those hidden gems that could prove to be a way to redefine how we address homelessness and vulnerable people in the Montgomery County area. As one of the fastest growing communities in the country, Montgomery County has lead the state in great successes and has seen the community come together in the middle of great disasters. It is an amazing testament that in the mist of one of the greatest trials in our country's history, our community found its footing and banded together to build a better life for themselves, while at the same time, touching the hearts of the people around them. Today, we witness the same compassion and resilience that shaped the history of our community through valuable nonprofit organizations like Compassion United. During the Great Depression, the city of Conroe became known as the "Miracle City" due to vast oil discoveries. People from around the country would seek out their fortunes and look for opportunities in the Conroe area. Our community was known as a city of hope for many people and today we showcase a new "Miracle City" being built in Conroe by Luke Redus and his wife Karla. Like the oil seekers of the 1930s, Luke and Karla Redus and their Compassion United organization tap into our richest and most precious resource. The resource of people. And unlike the oil reserves of yesteryear, the gains experienced in the investment in people will never be depleted or ever run dry.
"No one is useless in this world who lightens the burdens of another." - Charles Dickens
Conroe's George Strake and the Origin of the Nickname "Miracle City"
George Strake was a pivotal and influential individual in the growth of the city of Conroe. You may have heard of Camp Strake. It was one of the largest Boy Scout camps in the country. The over 2,000 acres of land was donated to the Boy Scouts of America by George Strake back in 1943. He was a known philanthropist and oil wildcatter that made his fortune on instinct and determination. George Strake was an experienced oil man that had already known success in oil exploration in Mexico. He was originally from St. Louis. With his many successes came some failures as with his oil ventures in Cuba. But it was his intuition and uncanny ability to see things that other people didn't see that gave him the idea of drilling for oil east of Conroe. At the time, oil fields were looking for oil west of Conroe, but Strake had a feeling that there was promise in a few thousand acres to the east of the city. He was correct in his assessment and in December of 1931 Strake ended up tapping into one of the nation's largest deposits of oil, making the Conroe oil field the third largest oil field in the country. That event put Conroe on the map and kickstarted an influx of people from across the country, ready to find their treasure. George Strake was a Christian and during his life, he gave a great deal of the money to worthy organizations, including the St. Joseph's Hospital Foundation and University of St. Thomas in Houston. His net worth was estimated at around $100 million and he served on the boards of various organizations, including the national executive board of the Boy Scouts of America, the board of governors of the American National Red Cross and the board of the University of Notre Dame.
George Strake was a pivotal figure in the growth of Conroe and made his name by tapping into one of our community's greatest resources, which was oil. Today, a couple by the names of Luke and Karla Redus is following in the footsteps of George Strake by following his instincts and looking for precious resources where other people may not, and that is in the individual lives of those most vulnerable through ministries targeting homelessness, pregnancy crisis, hunger, at-risk youth, and unemployment. Compassion United has a vision of helping the community and has already struck pay dirt with the successful stories of people finding Christ, turning their lives around and becoming positive contributors and influencers to their Montgomery County community.
Starting Compassion United From The Ground Up
Luke Redus is not your typical guy. He has a knack for honing in on what the core issue of a problem is. For years, he worked as a project manager for an IT company. This is probably why he is so good at managing the people and processes of Compassion United and why he dedicated so much of his time and energy to specific areas of ministry, including feeding the homeless. Homelessness is very close to Luke's heart. He was homeless himself for a period of two years and realized that there weren't many resources that focused on transitioning people out of homelessness. His background is not in managing nonprofits, but you would never know that by looking at the successes that he and his wife Karla have experienced through their Compassion United ministry. Luke recalled how their ministry was started. Back in 2006, Luke and Karla felt God calling them to help feed the homeless, so they did what they could at the time, went to the local Walmart, bought about $28 worth of eggs, tater tots and tortillas, made about 200 breakfast tacos and started driving through town, identifying homeless men and women to give food to. They noticed that homeless people would group together in camps so Luke and Karla would frequent various homeless camps, bringing food with them. Local city ordinances eventually forced many of the camps to disband and also in an attempt to centralize their efforts, Compassion United started a weekly program called Breakfast In The Park. Every Saturday Luke, Karla and their kids would setup tables, partner with area churches and provide food for about 80-100 people each Saturday morning. It is their flagship ministry, but by no means their only one. From that desire to feed the homeless, Luke and Karla setup various other ministries, including a transition house for men in 2010 and one for women in 2015, a ministry for at-risk youth, a food pantry as well as a church that focuses on the homeless called the Conroe House of Prayer.
Overview of Compassion United's Ministry
Compassion United was conceived and implemented by Luke and Karla Redus in 2006. It is an Christian organization that comprises nine different ministries that include the following:
Breakfast In The Park
- Breakfast in the Park is Compassion United's flagship outreach. What started with a family and a cooler full of breakfast tacos has become a Saturday morning tradition that unites churches all over Montgomery County — serving meals fit for a king to homeless and poverty-stricken in Conroe at Lewis Park.
Click here for more info
Conroe House of Prayer
- Conroe House of Prayer (CHOP) is a church for the poor and homeless where they can connect with God and get a free meal six days a week. However, just as important, they strive to provide something much deeper — a spiritual family.
CHOP is a safe place where those who spend most of their time fighting to survive can find rest, nourishment and essential connections to people who understand them and have their backs. Most of the people who come through their doors have been forgotten and dismissed by society.
Click here for more info
Freedom House
- Freedom House is a safe, stable environment for men seeking positive change in their lives. Many of their residents have a history of homelessness, addiction and imprisonment, inhibiting them from becoming who they were created to be. Freedom House is not a shelter, but rather a home of hope for men in need, and their model reflects that! Their restoration program is uniquely designed to allow each resident an escape from their current situation as they begin the journey of restoring their hope and transforming their future. Each resident receives an individualized plan for success using a multi-phased, holistic approach to wholeness and community.
Click here for more info
Hosanna House
- Hosanna House is similar to Freedom House in that it is a safe, stable environment for women seeking positive change in their lives. With many residents having a history of homelessness, addiction, trafficking and abuse, this inhibits them from becoming who they were created to be. Hosanna House is also not a shelter, but rather a home of hope for women in need.
Click here for more info
JoyHouse
- JoyHouse is a safe, nurturing place for expecting mothers to prepare for their sweet babies' birth. Every year, they support women who have been through extremely difficult situations, including abusive relationships, human trafficking and even rape. Often, the mommies-to-be come to them unsure of how to navigate the hurt and pain they're experiencing, along with the responsibility of caring for a new life. That's where they step in! Whether they choose to raise their child or bless another family through adoption, they come alongside mothers who desire to choose life, providing them the essential resources and support needed to move forward. JoyHouse provides an encouraging community that removes the fear, insecurity and potential shame of their situation.
Click here for more info
Destiny Kids and City of Light Youth
- Destiny Kids and City of Light Youth are programs focused on helping children and youth build and engage in encouraging, positive and life-changing relationships. They aim to provide a fun, energetic and safe environment where kids can be kids and learn about God's love. In addition to playing basketball, jumping rope, making chalk art, playing video games, enjoying good food and so much more, they desire to help each child find a deeply rooted faith in God. Their incredible volunteers help mentor each child to see themselves as God sees them and inspires them to reach their fullest potential.
Click here for more info
Fresh Start
- Their Fresh Start program works in partnership with Compassion United's transition homes to empower residents to grow spiritually, emotionally, socially and practically. They equip them with tools to overcome obstacles, destructive mindsets and unhealthy habits to develop a stable foundation and a sustainable future. These practical tools are taught in life-skills classes through Fresh Start University, then reinforced by their entire team and the resident's one-on-one mentoring relationships. They build strong relationships with Their residents to help them connect with God, experience community, discover their purpose and make a difference in the world.
Click here for more info
Terry's Table Food Pantry
- They launched Terry's Table Food Pantry to provide a place of connection, hope and outreach to Montgomery County citizens. This outreach is a large part of why Compassion United has been able to provide over 230,000 lbs of groceries to over 8,000 people in need each year! By helping meet people's physical needs, they can nurture the emotional and spiritual needs that keep them from experiencing the abundant life God has for them! Their Food Pantry is directed by retired veteran and former Navy Chief Petty Officer, Paul Collom. He and his daughter, assistant director, Morrisa Collom, provide a hard-working yet fun environment where you will find, simply put, people helping people.
Click here for more info
Compassion Coatrack
- Compassion Coatrack was created to provide cold-weather clothing and resources to distribute to people in need.
Conroe's New "Miracle City"
A vision of both Luke and his wife, Karla was to consolidate their ministry into one location. Currently, Compassion United rents out various houses for their transition homes and their church. Miracle City was a centralized location that could minister to the homeless, provide for their immediate needs while helping them to transition out of homelessness. In 2019, the City of Conroe provided their ministry with 5 acres of land on Foster Drive. In addition to the land, Compassion United received a $1.25 million dollar grant to help build the the Miracle City Day Center. In addition to the grants, they receive donations from individuals and local faith-based organizations. The Woodlands Methodist Church committed to giving $100,000 as did the Conroe Church of Christ. A drawing of what they plan to build is shown below. Phase 1 is to build the Empowerment Center. This will house their classroom space, critically needed offices as well as be the temporary location of their church for the homeless called the Conroe House of Prayer. The cost for phase 1 is $1.05 million dollars. This phase has been fully funded and construction is underway. Construction of this building will be completed by November of this year. Phase 2 will focus on the construction of the Miracle City Day Center. Once complete, this facility will be the permanent location for their Conroe House of Prayer. It will also provide facilities for the homeless to shower, do laundry, and utilize a computer room for job searches. This cost of phase 2 is estimated at $2.5 million dollars, of which, they have already been awarded a grant for $1.25 million dollars. Phase 3 will focus on three additional buildings that will house the two transition homes as well as the crisis pregnancy center. In total for 2020, they secured $2.65 million for the entire project. Compassion United started as a calling to feed the homeless and has now grown into one of the most comprehensive support ministries in Montgomery County. The three core areas of Compassion United is OUTREACH, RELIEF and EMPOWERMENT. Outreach to help meet the physical, spiritual and emotional needs of our neighbors. Relief to provide food, clothing, hygiene items or spiritual guidance. Empowerment to help those seeking to change their way of life and provide a roadmap to independence and success.
How You Can Help
To learn more about Compassion United and their ministries or to donate or partner with this ministry, please go to the following links:
-
Click here
to view the Compassion United Facebook Page
-
Click here
to view the Compassion United Website
-
Click here
to donate to Compassion United
-
Click here
to partner with Compassion United as a sponsor
-
Click here
to partner with Compassion United as a legacy giver
-
Click here
to advocate volunteers
Transformation Success StoriesPatricia's Story
I moved to Houston after being hired for a new job, but once here, the job fell through. Knowing no one here, I had to live out of my car before relocating to the Salvation Army. I began attending CHOP and met people from Compassion United, who invited me into Hosanna House. During my 11 months there, I found a job, began saving money, and became house coordinator for Hosanna House. I am now happily married and operate my own business. I give all the glory to God for all He has done!
Gabriel's Story
I was 13 years old when Destiny Kids first started their youth programs within the apartment complex where I lived. With not much else to do, I began attending the program and had fun learning about God. I continued being apart for the last five and a half years, and it has drastically impacted my life. Without the volunteers of Destiny Kids, I would not be in tune with God like I am today. I'm now finishing high school and making plans to attend college to pursue marine biology.
Lynell's Story
I started coming to Terry's Table Food Pantry about four years ago as a client. I needed food to take care of my great-grandchildren as well as kind words and prayers. I received both. The people here were so kind and gracious! After a while, my great-grandchildren were placed in a safe home. I began to think about it and decided that I would become a volunteer at Terry's Table to return the help I received. It didn't take long to get involved, and now I've have been here for over a year. The people at Terry's Table are not just people; they are friends and family. I thought I might help someone else that needed a kind word, prayer or just a friendly face by volunteering. But in reality, I have made life-long friends who encourage and inspire me daily. May God bless this ministry!
Brian's Story
I have only been at the Freedom House for a short time, but I already feel like the program has radically changed my life for the better. Since my release from prison, I have been searching for a better way. Something outside of violence, drugs and fear inspired behavior. Freedom House has been a supportive and accepting network to explore my new found identity in Jesus. Compassion United has opened doors that otherwise would have never been seen, let alone opened. Through personal examples and scripture, I have been shown that I don't have to live in guilt and shame. My desire is that one day my life will be about what I may do for others.