/

/

Self care ideas in The Woodlands, Texas; Centered around stress relief, joy, and wellness
Self care ideas in The Woodlands, Texas; Centered around stress relief, joy, and wellness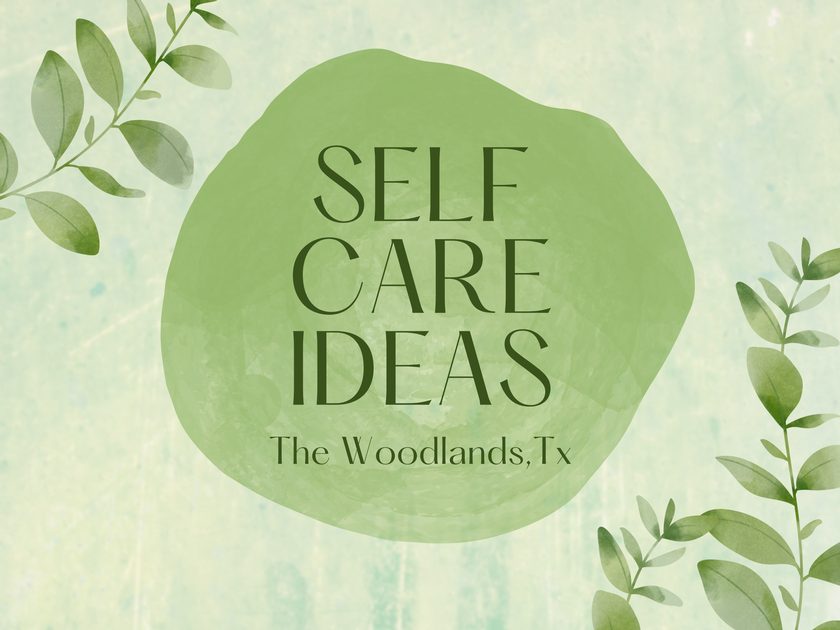 THE WOODLANDS, TX — Self care is important because you can't pour from an empty cup. Be kind to yourself and place the rightful importance on taking care of you.

Try out a float tank
Defy gravity with a sensory deprivation float tank. No sound, no light, no weight. It's a place to restore and truly unplug.
• Blissful Water Float Center has a post float lounge to elongate your relaxation and ease you back into your senses.

See a movie solo
Going to the movies alone can seem daunting for some, but it's actually really nice. The great thing about seeing a movie in theaters as opposed to at home is that it feels like an excursion, and keeps you away from distractions so you can really let your mind wander into the plot.

Take a walk through nature
Honestly, the whole "nature walks relieve stress" sentiment seems like a ploy until you're actually out there with the vast sky overhead. It's the simplest solvent, but when you return home everything seems lighter.

Sunbathe
With proper sunscreen of course, and a big glass of ice water. Listen to your favorite podcast or tunes. If you're not a fan of the heat, try 'moonbathing' instead and take in the sounds of nature that come alive at night.

Catch a musical act
Live music is therapeutic. Choose between an intimate venue with great acoustics, or a crowded concert where you can sing as loud as you want!
• Intimate venue: Dosey Doe
• Singing loudly for all the hear: The Cynthia Woods Mitchell Pavilion

Salt therapy
Sounds wild right? Halotherapy supports the immune, nervous and lymphatic systems, reduces stress and headaches, and increases energy.
• Whole Body Therapies has salt rooms, an infrared sauna, cryotherapy, and NormaTec compression.

Bake to your heart's content
Is there anything better than baking fun treats, and eating them fresh from the oven, or sharing them with friends and family? Classes are a great option because there's no mess no stress.
• Class option: Over The Top Cake Supplies has you covered.

Plan a trip
I've learned that having something to look forward to is a great tool for making the hard days easier. Whether its a weekend visit to stay with a friend, or a full out vacation.
• Fox Travel can help you with the latter!

Take a loooong tea or coffee break
Instead of rushing through the drive-thru, stop at a quaint coffee shop. Bring a good book or magazine to flip through, and wear cute lounge clothes to feel confident and comfy.
• Lovebeans Coffeehouse has delicious and unique drink options.

Buy yourself something that brings you joy
We've all heard the phrase "treat yo self" and you totally should! Pro tip: pick something you've been eyeing that you know you'll get good use out of, like a nice bed tray or a necklace that will become your new staple piece.
• Shop around at our online Marketplace!

Grab a healthy juice
There's nothing more refreshing than grabbing a juice that will nourish your body. I suggest skipping the fruit juices because of all the sugar. Get something tasty that's either cleansing or full of nutrients. Then pretend you're an LA-living yogi for twenty minutes or so.
• You have to try Nekter Juice Bar. No joke, it's so good.

CBD products
CBD products can be really helpful in alleviating stress and even physical pain. Ojas CBD on Rayford has quality products. I personally recommend the Rest & Relaxation blend for anyone struggling to shut off their brain once it hits the pillow, or the peppermint tea to help unwind as the sun sets.
• Be specific and tell them what you're wanting to achieve - they really know their stuff!

Crafts & DIY
Sometimes the best days are the ones spent carrying out a Pinterest project. If you don't want to grab the supplies yourself, consider taking a fun class at Painting with a Twist! The local library hosts little creative projects as well.

Adopt a pet
Okay, this one is out there, I know, but if you're looking for some long term positivity in your life, a critter pal is something to consider. Operation Pets Alive is a wonderful organization to look into!

Go camping
There's nature walks, then there's a full deep dive into nature. November is the best time to camp in this area. Try Huntsville State Park. Pro tip: bring a hammock! And reserve a campsites with a restroom/shower in walking distance.

Get lost in a museum, aquarium, or zoo
Another underrated activity - going to a museum, aquarium, or zoo on your own. Pick a topic that interests you, be it science, art, history, etc. and immerse yourself in it! The best thing about going to these places alone is that you get to stop at your personal points of interest for as long as you please. Want to spend forty minutes lovingly staring at flamingos? Go for it!


"Rest is not idleness, and to lie sometimes on the grass under the trees on a summer's day, listening to the murmur of water, or watching the clouds float across the sky, is by no means a waste of time." - John Lubbock