/

/

Pat Green To Headline Boots For Troops 6th Annual Concert In The Country In Magnolia, TX
Pat Green To Headline Boots For Troops 6th Annual Concert In The Country In Magnolia, TX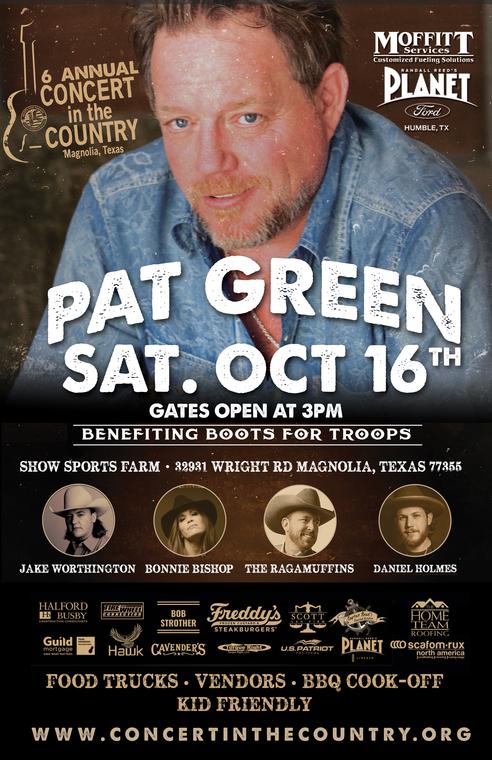 MAGNOLIA, TX -- Pat Green will take the stage at the 6th Annual Concert in the Country Presented by Planet Ford 59 and Moffitt Services on October 16th, 2021 to help raise money for local non-profit, Boots for Troops.

The event will feature various entertainers, including country music superstar Pat Green, Jake Worthington, Bonnie Bishop, Chad Prather and the Ragamuffins and Daniel Holmes who will all be performing various songs on the big stage. Other features of this concert include food trucks, vendors, a cook-off, and more.

Concert in the Country is hosted at Show Sports Farm, a beautiful horse farm in Magnolia, TX and benefits Boots For Troops, which is a non-profit organization whose mission is to uplift and empower the overall morale and mental well-being of our deployed men and women. Boots For Troops was established in 2015 by local Tomball natives Jimmy Rogers (Navy Veteran) and his wife Lindsey. Sending care packages complete with boots as well as other items requested by service members is only a fraction of what Boots For Troops does and is known for. They also raise funds to send troops home for emergency situations and the holidays.

"Just look at the sponsor list. This event has captured the attention of this community. Each year people look forward to attending. It is slowly becoming a destination event as well. We have had people travel from all over the country to attend. It is a big deal for this community and even a bigger deal for the troops" stated Co-Founder, Jimmy Rogers.

"We have such an incredible committee and volunteer team that dedicate their time to helping us make this event a success year after year for our troops," says Director of Operations, Lindsey Rogers.

Thank you to our other amazing sponsors for helping us make this incredible concert happen! Thank you to Moffitt Services, Planet Ford 59, Halford Busby, Guild Mortgage-Team Anderson, The Hawk Group, Cavender's, Tire & Wheel Connection, Captain Brad's Coastal Kitchen, Torque Right, US Patriot Tactical, Scafom North America, Home Team Roofing and Cline Wraps to name a few. We truly could not do many of the things we are blessed to do without our wonderful sponsors. Thank you to everyone who supports us as an organization and helps us in the aid to service members! Tickets are now available at Concertinthecountry.org.