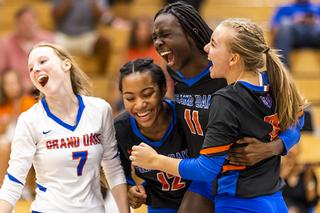 The Woodlands, TX -- Grand Oaks came out swinging in game one, showing their dominance in defense as well as offence. Holding Tomball Memorial to only 14 points, the lady grizzlies were set to have a quick match. Although things heated up with some questionable calls, Tomball Memorial head coach Sydney Lynch didn't care to much for them and was issued a red card.

The second game was evenly matched going point for point. Each team's offence was on point creating many setups for some dominate kills.

"I think that was good. It was good to be pushed a little bit…" said coach Morgan Rogers. "It was good to see them push through that to get ready for district."

In the third game, Grand Oaks struggled to take the lead and left many points on the table as Tomball Memorial ran away with the win. Finally, Grand Oaks got it together and went point for point again with Tomball Memorial. There were many back-to-back rallies showing the skill between both teams. Fortunately, Grand Oaks closed out Tomball for the 3-1 victory.

When asked who she was looking forward to the most in district, Coach Morgan Rogers replied, "I mean everyone."

Grand Oaks is set to face College Park in their district opener on September 21st.