/

/

Top 5 Things to Do This Week in The Woodlands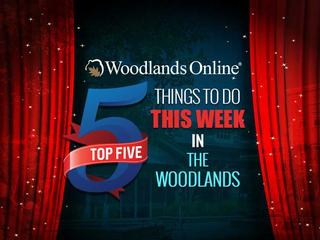 THE WOODLANDS, TX – Quote of the week: "May your walls know joy, may every room hold laughter, and every window open to great possibility." — Mary Anne Radmacher | Here's our pick of the top five things to do in The Woodlands this week!

4th Annual Habitat for Heroes Soiree
November 8 from 6:00 PM - 9:00 PM
Mercedes-Benz of The Woodlands
Momentum Title present The Fourth Annual Habitat For Heroes Soiree benefiting Habitat for Humanity. Coming together to fund housing for our local veterans - guests will enjoy elegant, cocktail style event featuring complimentary libations and lite bites.
EVENT LINK

Veterans Day Tribute
November 11 from 4:30 PM - 5:30 PM
The Woodlands Township
The Woodlands Township Veterans Day Tribute at Town Green Park, featuring a presentation of colors, musical performances, Our Community Salutes Ceremony, and Keynote Speaker Lieutenant Colonel Sam Kim, Special Forces and Commander, U.S. Amy Recruiting Battalion - Houston. A special military Care Package Drop-Off Booth with be set up during the Veterans Day Tribute to accept donations of recommended items to be shipped to the troops. 
EVENT LINK

Anniversary Party and Sale
November 13 at 12:00 PM
Space Cadets Gaming Gaming
Break out the party hats, balloons and party discounts! Space Cadets Gaming Gaming is celebrating 5 years in business! They're going to have special cookies for treats, a spin the prize wheel, The Chick N' Cone food truck on site, many games and events throughout the day and of course their big sale!
EVENTS LINK

2021 Spring Texas Music Fest
November 13 at 1:00 PM
The 2021 Spring Texas Music Fest will be held at Bareback Bar. Performing artists include: Wade Bowen, Glen Templeton, Jason Cassidy, Scooter Brown Band, Blacktop Mojo, Jeff Canada, Brian Sacco, Seth Keiffer, and David Joseph.
EVENT LINK

Craft Circle 41st Annual Boutique
November 13 - November 14
The Woodlands Methodist Church
Shop beautiful handmade pieces perfect for the holidays. All proceeds benefit the The Woodlands Methodist Church's Missions activities. More information can be found here!
EVENT LINK

Check out our Events Calendar for more!