/

/

Teen Who Suffered Cardiac Arrest At School Meets With First Responders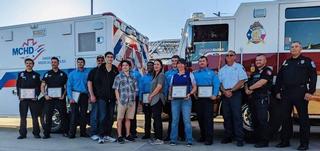 MONTGOMERY, TX -- Last Friday, first responders from Montgomery County Hospital District, Montgomery Fire Department, Montgomery Police and school employees from Montgomery High School came together to celebrate the life of 16-year-old Michael Rodriguez. Michael was at school last month when he suffered cardiac arrest. He had no pulse when Megan Ruble, an athletic trainer for Montgomery High School, rushed to his side.

"When I saw him, his face was blue… I started compressions and secured the AED… I pushed the button and, I swear, it was just like the movies. We continued with CPR, and the color began coming back in his face."

Once the police, paramedics, and firefighters arrived, they took over Michael's care, but Megan's quick actions and CPR training proved vital in his survival. Bystander CPR greatly increases a person's chances of survival when given in the first minutes of cardiac arrest.

"It wonderful to see Michael here today, doing so well. It goes to show the importance of early intervention in cardiac arrest. Every single person who touched Michael that day is a part of his chain of survival. His outcome would be greatly different if not for the actions of all of you," said Kevin Crocker, MCHD Division Chief of Quality and Process Improvement.

Michael's parents, who catered a BBQ dinner for first responders to show their gratitude, thanked everyone who had a hand in Michael's chain of survival. Michael's father, Wyman, is a firefighter for the Houston Fire Department.

"[I just think about] all the times that I've done it, and it's very few times that people ever come back. And when it's your own son, it hits home. So, I just thank you. From the bottom of my heart, I thank you."

MCHD would like to thank all of the first responders involved in this call:

MCHD Paramedics

M41

Cain Pool

Cameron Seulean

Samuel Hancock

Montgomery Police

Reed Edelman


Montgomery Fire Department

Battalion Chief 51


Reed Griffith

Don Larson

Engine 51


Cody Chapman

Jacob French

Timothy Johnson

Jerell Jones

Montgomery County Hospital District's mission is to care for the indigent and provide EMS services while protecting the interest of taxpayers and ensuring long-term stability through fund development. For more information about the Montgomery County Hospital District please go to www.mchd-tx.org.