The 36th Annual Woodlands Economic Outlook Conference will Boast Some Esteemed Speakers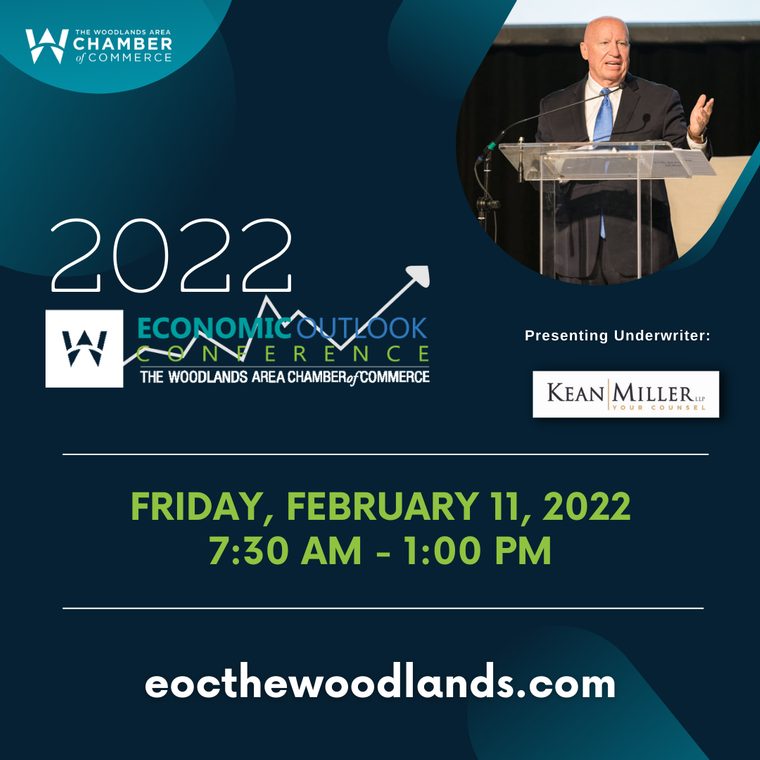 THE WOODLANDS, TX -- The Woodlands Area Chamber of Commerce invites you to mark your calendars for the 36th Annual Economic Outlook Conference that it is hosting on Friday, February 11, 2022 at The Woodlands Waterway Marriott Hotel and Convention Center.
Popular annual conference is slated for Feb. 11, 2022
The Economic Outlook Conference not only features economic experts who share valuable information for business leaders about current events and the future of the economy, it also offers a business expo that provides sponsors and attendees the opportunity to engage in one-on-one conversations.
This year, the conference includes an impressive line-up of speakers who will provide valuable local, regional, and national economic insights.
This year, the conference includes an impressive line-up of speakers who will provide valuable local, regional, and national economic insights. Scheduled speakers include:
Morning Keynote Speaker
David O'Reilly, CEO, The Howard Hughes Corporation
David O'Reilly is responsible for driving the sustainable growth of the company's assets and unlocking meaningful long-term value across the company's portfolio. He previously served as the company's President, and has been its CFO since he joined The Howard Hughes Corporation in 2016.
Lunch Keynote Speaker
Johnny Carrabba, Carrabba Restaurants
In 1986, Johnny opened The Original Carrabba's on Kirby Drive. The second location on South Voss Road opened its doors in 1988. In 1993, Outback Steakhouse created a joint venture partnership, consequently opening over 230 Carrabba's Italian Grill Restaurants nationwide, ten locations in Brazil, and future locations in Mexico.
Featured SpeakersCommunity Update Speaker
Gil Staley, CEO, The Woodlands Area Economic Development Partnership
In his position, Gil Staley is responsible for directing recruitment of new businesses as well as directing the business retention and expansion program. He also oversees the operational aspects of the EDP while maintaining the financial integrity of the organization.
National Update
U.S. Congressman Kevin Brady
United States House of Representatives Serving the 8th District of Texas. He is the third Texan in history to chair the powerful House Ways & Means Committee. He helped launch the EOC as president of The Chamber in 1986.
Economic Update Speaker
Patrick Jankowski, Senior Vice President of Research, The Greater Houston Partnership
Patrick Jankowski oversees the research department which provides information gathering, data analysis and economic forecasting the Partnership's ten divisions. Prior to working as an economist, Jankowski worked as a business writer for Houston Magazine, Houston City Magazine, Houston Engineer and Houston Business Journal.
Regional Update Speaker
Glen Hegar, Texas Comptroller
Glenn Hegar is Texas' chief financial officer — the state's treasurer, check writer, tax collector, procurement officer and revenue estimator – a job that is particularly important as the state continues its strong recovery from the dual impacts of the COVID pandemic and energy market volatility.
Workforce Education Panelists
Dr. Curtis Null, Superintendent of Schools, Conroe ISD
Dr. Curtis Null became Superintendent of Schools in June of 2018. He has 21 years in education, serving 19 of those years in Conroe ISD. Dr. Null earned his bachelor's degree from the University of Houston in 1998.
Dr. Alisa White, President, Sam Houston State University
Prior to joining Sam Houston State, Dr. White, a Texas native, served as president of Austin Peay State University in Clarksville, Tennessee. She previously served as provost and vice president for academic affairs at the University of Texas at Tyler and Midwestern State University.
Dr. Stephen Head, Chancellor, Lone Star College System
Stephen C. Head, Ph.D. was appointed as the fourth chancellor of the Lone Star College System in 2014. He began work at the college in 1984 and has a thirty-year history of high-level positions at LSC including serving as president at three LSC campuses and Executive Vice Chancellor.
Early bird ticket prices are: $149 for Chamber Members and $179 for Non-Chamber Members. Virtual tickets are $99. To register or learn more,
CLICK HERE
.