/

/

Northwest Assistance Ministries Urgently In Need Of Toy Donations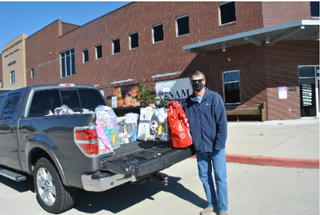 HOUSTON, TX -- Northwest Assistance Ministries (NAM) is urgently in need of toy donations to distribute to local families in need in the second round of its annual Holiday Blessings campaign.

Each year NAM supplies local families in need with gifts for their children and staples necessary for preparing holiday meals. Ingredients for a full holiday meal, complete with a turkey, vegetables, side dishes and dessert, are provided at Thanksgiving and a second full meal is provided in December, along with toys for families with children. However, this holiday season rising prices and sparsely stocked shelves are causing additional stress. "It's just hard on everyone," said Brian Carr, NAM's Chief Advancement Officer. "It's hard on the families in need, and it's hard on the organizations trying to help those families."

These are pre-registered events, and more than 5,000 children are registered to receive gifts in the coming weeks. NAM strives to provide three gifts per child registered, and is currently several thousand toys short of the number needed to meet its goal of 15,000 gifts.

New, unwrapped toys in the range of approximately $25 per gift for newborn through age 12 may be dropped off at The Harrell Family Opportunity Center located behind NAM's main building at 15555 Kuykendahl Road, Houston, Texas 77090, Monday through Friday from 10 a.m. to 2 p.m. through Friday, December 10, 2021.

NAM is also seeking volunteers to assist with preparation and distribution. Anyone interested in volunteering can get more information and submit a volunteer application at www.namonline.org/volunteer.

Last year NAM provided holiday meals for 1,700 local families and toys for 5,500 children.
Northwest Assistance Ministries is a non-profit, community-based social service agency that strives to meet basic human needs through Neighbors Helping Neighbors. NAM provides assistance in areas such as food, shelter, health, education and domestic violence awareness and intervention. During its last fiscal year, NAM touched the lives of more than 136,000 people through its many programs and services.