/

/

RPM Physical Therapy Expands Its Clinic In The Woodlands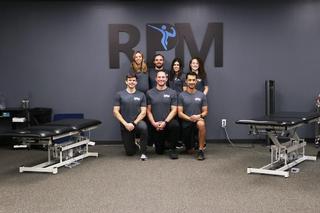 THE WOODLANDS, TX -- RPM Physical Therapy has recently opened the doors to its new and expanded clinic in The Woodlands at 2408 Timberloch Place, Suite C6, between Grogan's Mill Rd. and East Shore.
The community is invited to a Grand Opening Celebration on Jan. 5 from 5-8 pm
RPM Physical Therapy specializes in physical therapy and training services to help the 40+ population get mobile, stay active and free from injury, without the use of painkillers, injections or unnecessary surgery.
Treatment services are provided by a team of fellowship-trained and residency-trained physical therapists, along with personal/functional trainers. Clients include athletes as well as individuals who simply desire to maintain a healthy lifestyle and enjoy their favorite activities as comfortably as possible as they embrace middle age and beyond.
RPM Physical Therapy was founded in 2016 by physical therapist and trainer Dr. Jonathan Ruzicka, PT, DPT, FAAOMPT, in its previous location just a few steps away at 2319 Timberloch Place, Suite F. Now, their new space adds 3,000 square feet for a total footprint spanning over 4,700 square feet.
The expanded facility features a full gym with state-of-the-art equipment that includes space for socially-distanced exercising, along with areas dedicated to private therapy. The new space is well equipped to serve over 250 clients with a professional Physical Therapy and Personal Training team. The new location also features a well-designed luxury locker room with showers and towel service.
"We are thrilled to open the doors of our newly expanded clinic to accommodate our growing patient base, from the aging population of The Woodlands to professional athletes," said Dr. Ruzicka. "Our new suite offers more space for one-on-one therapy sessions and strength training as well as dedicated rooms for a more private feel. We invite the community to join us during our grand opening to tour our expanded facility and discover our life-changing therapy offerings."
A community-wide grand opening celebration to showcase the new facility will be held on Wednesday, January 5th, from 5 p.m. to 8 p.m., featuring educational demonstrations, giveaways, drawings for prizes, and refreshments.
Dr. Ruzicka holds a doctorate in Physical Therapy from The University of Texas Medical Branch at Galveston and earned a Fellowship of Manual Therapy with the Institute of Athlete Regeneration. After graduating from The Woodlands High School in his hometown of The Woodlands, he went on to play football at Midwestern State University and Texas State University. During his time in college, he had what he thought was a career-ending back injury with two bulging disks. The search for treatment without surgery is what led him to his passion for physical therapy.
RPM Physical Therapy is a private-pay therapy clinic that offers patients convenient and flexible appointments with one-on-one training expertise.
For more information about RPM Physical Therapy, visit rpmwoodlandspt.com, call (713) 992-5916, email Team@RPMWoodlandsPT.com, or visit the facility at 2408 Timberloch Place, Unit C6 in The Woodlands.