/

/

Two Lakes Edge In Hughes Landing Named 'New Development MId-Rise Property Of The Year'
Two Lakes Edge In Hughes Landing Named 'New Development MId-Rise Property Of The Year'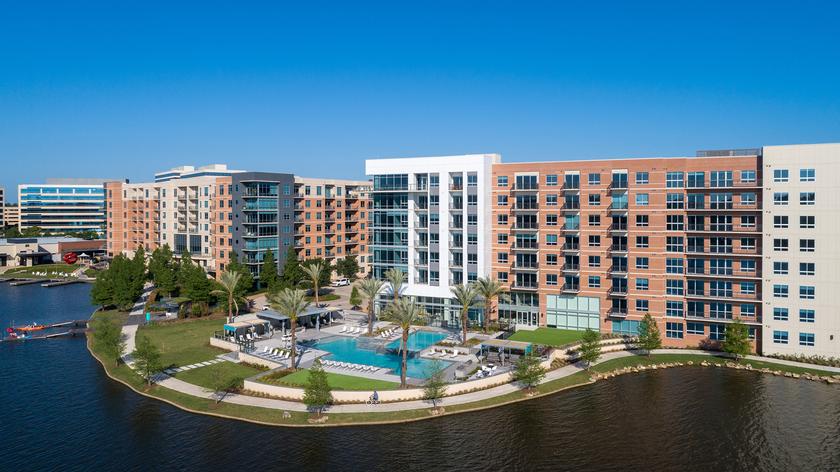 THE WOODLANDS, TX -- Two Lakes Edge, the eight-story, luxury multifamily development in The Woodlands® has been honored as the 2021 "New Development Mid-Rise Property of the Year" by the Houston Apartment Association. Developed by The Howard Hughes Corporation® (NYSE:HHC), Two Lakes Edge is currently at 96% occupancy, located in Hughes Landing® and set against the glistening 200-acre Lake Woodlands, with a pedestrian-friendly, amenity-rich environment including restaurants, retail, arts and entertainment. Hughes Landing also offers Class A office space and an Embassy Suites by Hilton.

Two Lakes Edge consists of 386 high-end units that offer the freedom and convenience that comes with lifestyle without the constraints, maintenance and expense of homeownership. The modern luxury development offers a variety of studio micro-units, one-, two-, and three-bedroom units, featuring upscale finishes, appliances and cutting-edge residential technology.

With a focus on health and wellness, Two Lakes Edge features extensive outdoor amenities adjacent to Lake Woodlands including a resort-style pool with elevated views of the water, a European-style courtyard with an outdoor fireplace, and a sprawling outdoor fitness lawn that offers usage of kayaks and bikes free of charge for residents

Interior amenities include an expansive, state-of-the-art fitness center with a large yoga room, a sports lounge with a multi-sport simulator, a sky lounge, a co-working area offering meeting space and private offices, a wine room and individual general storage units.

Two Lakes Edge provides convenient parking with direct access to each floor and offers retail and a future restaurant site on the ground level facing Hughes Landing Boulevard.

"We are honored by the Houston Apartment Association's recognition of Two Lakes Edge," said Crystal Bledsoe, National Multifamily Asset Manager for The Howard Hughes Corporation. "The prestigious award demonstrates the dynamic, modern waterfront environment offered by this luxury multifamily property in Hughes Landing."

Hughes Landing is a vibrant 24/7 community. Coffee shops and activity trails are activated by morning power walkers, runners, and dog walkers along Lake Woodlands. At noon, the area's many restaurants and retailers, anchored by Whole Foods® Market, become a walkable community destination for social and business activities. In the evening, residents and visitors stroll along the patios of Restaurant Row. Rock the Row Concert Series offers spring, summer and fall live music concerts at the Band Shell. Lake Woodlands is also active with kayakers, rowers and stand-up paddle boarding offered at Lakes Edge Boat House.

Two Lakes Edge is the second multifamily residential building in Hughes Landing, complementing One Lakes Edge, which was recognized as the "Top Mid-Rise Community of the Year" in 2019 by the Houston Apartment Association.

For more information on leasing opportunities at Two Lakes Edge, visit www.twolakesedge.com or call 281.719.2000.