/

/

The Kingston Trio Perform at Dosey Doe Jan 15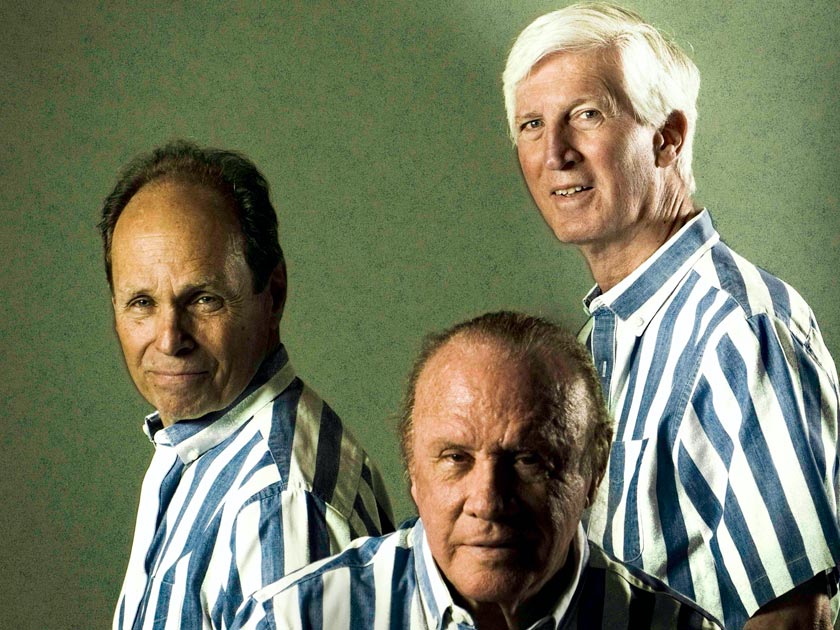 THE WOODLANDS, TX – The Kingston Trio is one of the longest running and most beloved music groups in America. Founded in 1957 in the San Fransisco Bay Area, The Kingston Trio has helped define the soundtrack of lives of millions of people over the last 6 decades. We sat down with Kingston Trio member Mike Marvin to talk about his group and the upcoming Jan 15th concert. You will not want to miss the opportunity to hear The Kingston Trio perform at Dosey Doe Big Barn this week.

Click here to purchase tickets to The Kingston Trio January 15 concert.



The members of The Kingston Trio have changed over the years, but the sound and performances are the same as when Dave Guard, Bob Shane, and Nick Reynolds originally set up the band. There is a special and unique sound that has been preserved that helps define The Kingston Trio and has contributed to their major success. Both Bob Shane and Dave Guard met while growing up in Honolulu. They developed a friendship and with a love for music, they both started playing local performances. Their music was a mixture of Hawaiian and calypso music. Mike mentioned that groups like The Weavers and Woody Guthrie were huge influences on the band.

We asked Mike how they would describe their music today. He said that it was really a mixture of various styles. They sing folk songs, pop songs as well as Broadway tunes. Back when they first started, the industry had a hard time categorizing their music. They were considered a folk band for the most part, but they also offered other types of music as well. He said that The Kingston Trio performs essentially three part harmonies.Their first number one hit was a song called Tom Dooley. This song sold over 3 million copies and helped solidify their ongoing success as a top singing group. The Kingston Trio won a Grammy for Tom Dooley, but the music industry didn't know how to categorize their music so they ended up giving The Kingston Trio a Grammy under the category of country music. This was the first Grammy to ever be issued for Country and Western Music. It was an interesting honor for a group that many considered an Hawaiian Folk band. Mike mentioned Minnie Pearl commenting at the time that The Kingston Trio was the Hawaiian Folk band that saved country music.



The success of The Kingston Trio can't be understated. They have produced 19 albums that have ranked in Billboard's Top 100 and the majority of those albums have also ranked in the Top 10. They have broken numerous music industry records over the years that have included most number one albums and most weeks with a number one album. They have held records that have spanned 50 years. It is an amazing accomplishment.

The Kingston Trio is continuing their success and incredible music. They will be performing at Dosey Doe Big Barn January 15. Don't miss your opportunity to hear them perform and meet them in person after the show.

Click here to purchase tickets to The Kingston Trio January 15 concert.

About Dosey Doe

This 165 year old historical structure has been saved for its current purpose. Originally built as a tobacco barn in Kentucky, the 300-600 year old growth oak and birch massive beams are the foundation not only for a beautiful room for also for great acoustics. It is a place where memories are made. No need to run from restaurant to music hall, as here you have it all.

Their entrees are 'cooked from scratch' based on the season, special offerings of purveyors with the type of music of the night in mind. Their task is to offer a meal that would be the reason in and of itself to visit Dosey Doe. The presentation is note worthy and the creations are featured in several Cook Books from Canada to Texas.

Nationally recognized artists from around the world dominate the calendar here: from Jerry Jeff Walker to The Rippingtons, Dave Mason to Lee Roy Parnell, Clint Black to Bela Fleck, Leon Russell to Spyro Gyra, Steve Wariner to Hayes Carll, Roger Creager to Mel Tillis, Manhattan Transfer to Gallagher... up very close and personal. Most artists will stay to have photos taken and give autographs after the show. Many very rarely do it anywhere but here and almost everyone says it is one of their favorite rooms to play.

'I have played them all, big and small, but I have never played a place that sounds as good as Dosey Doe!' - Gary P Nunn

'I will gladly tell anyone that Carnegie Hall cannot compete with Dosey Doe,' - Michael Martin Murphy

'One of my all time top 5 places to have played,' - Marcia Ball

Come early and enjoy the room. Filled with Americana artifacts from the late 1800s to the early 1900s, there is plenty to see. Your hands touching the hand-hewn 2000 lb barn beams, your eyes filled with art, artifacts, signage from a simpler time, your taste buds excited from salad to dessert, and music so pure - up close and personal... all designed to 'Take You Away' and create a memory you will keep.

The BIG BARN is home to great causes such as RETT and SWING FOR A CURE; benefits where proceeds go to help children's illnesses. The BIG BARN is available for large wedding receptions, corporate functions, birthdays and anniversary parties.

Click here to purchase tickets to The Kingston Trio January 15 concert.