/

/

2022 Economic Outlook Conference recap: rosy forecasts amid the struggle to recover from employment-related and other national issues
2022 Economic Outlook Conference recap: rosy forecasts amid the struggle to recover from employment-related and other national issues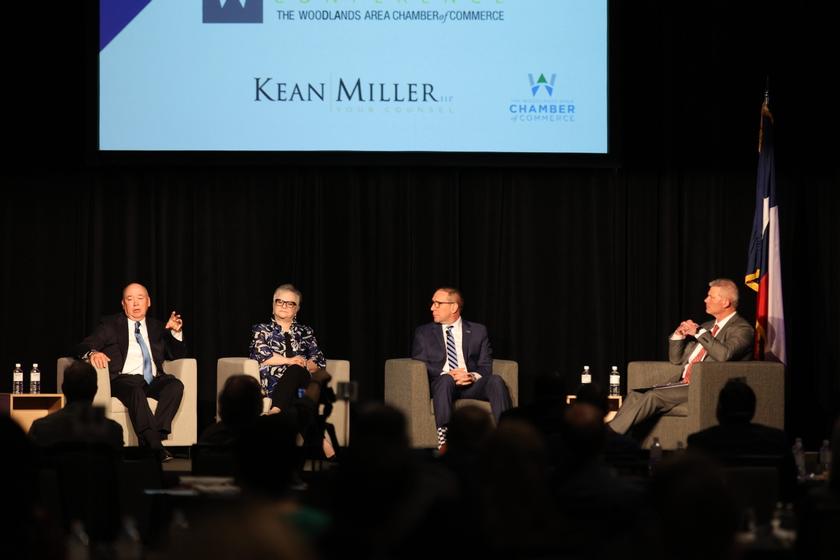 THE WOODLANDS, TX – The 36th annual Economic Outlook Conference – the immensely popular event hosted by The Woodlands Area Chamber of Commerce – boasted a strong turnout and a significant list of speakers who were captains of industry during its half-day presentation last week at The Woodlands Waterway Marriott Hotel & Convention Center.
Congressman Kevin Brady: "It's the workers, people."
This year's presenting underwriter for the conference was Kean Miller LLP. More than 500 attendees attended in person to enjoy nine speakers and more than twenty exhibitor booths. A total of 57 organizations and businesses sponsored the event, including Cypressbrook Company as the morning keynote sponsor, Murphy Private Wealth Group of Wells Fargo Advisors as the lunch keynote sponsor, Consolidated Communications as the VIP party sponsor, Wright Business Technologies as the wifi sponsor, and Ikard & Company, LLC as the lanyard sponsor.
After a morning greeting by JJ Hollie, president & CEO of the Chamber, and Eric R. Theirgood, Sr. of Kean Miller, and an overview day delivered by Entergy Texas, Inc.'s Melissa Bochat, team leader of the EOC, Howard Hughes Corporation CEO David O'Reilly took the podium for the morning keynote address.
O'Reilly stated that, despite the ongoing struggles induced by COVID-19 and its political and social fallouts, "it's been an incredible year for The Woodlands." While he warned that COVID was "here to stay," he expressed his confidence in the strong business climate that has always gone hand-in-hand with The Woodlands.
Next, an economic update was given by Patrick Jankowski, senior vice president of research for The Greater Houston Partnership. Right out of the gate, he engaged the crowd by pointing out how nice it was to be able to give a speech in person and not on Zoom. He, too, discussed the strains COVID has placed on The Woodlands economy – "We went through a horrible downturn in 2019… this COVID recession is equal to the past two national recessions combined" – but he gave good news when he pointed out that the Township has regained all but 13 percent of the jobs lost.
Jankowski pointed out that the hits taken by the energy sector was what was "holding us back," and that if it and the other three sectors of what he called the "big four" – construction, wholesale trade, and manufacturing – were removed from the charts, the needle would point in the positive direction. He pointed out the numbers released from U-Haul that show a significant increase in new arrivals to the Lone Star State. While he averred that "...it would be a good year for 2022 and 2023 unless there are additional national or global problems," he confirmed that "the ability to find workers is crucial."
After a networking breakout session, activity at the podium resumed when Gil Staley, CEO of The Woodlands Area Economic Development Partnership, gave his annual community update. The first slide in his presentation showed a roller coaster, and his speech matched the visual as he talked about the increased ups and downs of the recent business climate. For the first time since 1974, he stated, The Woodlands lost jobs "collectively" – meaning that while many sectors had gained jobs, issues such as two major companies leaving The Woodlands impacted the report, accounting for the resulting dip in jobs.
"As an economic developer, you need to be optimistic, and I am." said Staley. "Many California companies are done with California and are very seriously looking at us. To them I say, 'Welcome, y'all, come on in.'
Staley ended his speech like he did the beginning, with a roller coaster analogy:"Despite the ups and downs, the ride is always worth it."
The first elected politician to give a speech that day took the podium next: Texas State Comptroller Glenn Hegar (officially CFO, 36th Texas Comptroller Public Accounts), who provided a regional update. He echoed his preceding presenters when he stated, "The past two years have been an unbelievable challenge."
While he, too, expressed some frustration at the effects of COVID on the local economy, he had a more positive outlook on the residents here. "What people have created in this state is an amazing trajectory. Two-thirds of our tax revenue is through sales tax – it's the buyers guiding the trajectory," he said. In a lighter moment, he praised the shopping spirit that permeated the recent holidays: "Do Christmas again this month. Because you're engaged in the economy, the economy is doing well." Hegar ended with an encouragement for everyone to visit the website www.claimittexas.org to see if they had any monies owed to them being held by the state until they were claimed.
After a midmorning break, the national update was presented by Congressman Kevin Brady, who had announced his impending retirement from serving in the 8th Congressional District from this very same podium at last year's conference.
Brady wasted no time in conveying the positive aspect of his presentation: "Thank God we live in Texas; we're one of only four states that have recouped all post-COVID jobs."
He stressed that is was due to the surge of the Omicron variant of COVID and what he termed "bad policy decisions" that had most caused the local downturn. "Millions have been incentivized to stay home," he said. "Inflation is the number one concern of Americans, even more so than fears of COVID." Despite his apparent frustration at the fiscal policies of many aspects of the current presidential administration, he was sure to point out a good working relationship with the current Democrat chair of the House Ways & Means committee – which he had previously himself chaired – as well as the point that revenue is up. "We don't have a revenue problem; we have a spending problem."
Brady had some strong ideas on what is wrong and how to fix it. "Nationally, taxes are going up when others elsewhere are lowering them. This doesn't make sense when you're trying to stay competitive," he stated. "China is eating our lunch with their predatory trade practices. We need to lead on trade."
He ended his presentation on a more positive note: "Don't get discouraged. We can turn this around and have a strong 2022 and 2023. In Texas, we've created jobs. We're resilient. Never count yourself out in this. Wrong policies can be reversed. Former President Clinton once said, 'It's the economy stupid.' For me, I say, 'It's the workers, people.' Those in power need to create incentives, and we will come out more strong and more prosperous."
The solo speeches then gave way to an education and workforce panel moderated by JJ Hollie and participated in by Dr. Curtis Null, Conroe ISD's superintendent; Dr. Alisa White, president of Sam Houston State Elementary; and Dr. Stephen Head, chancellor of Lone Star College. Through an engaging question-and-answer session, the panel confirmed that local educational institutions are in good financial shape – "Omicron nailed us but we overcame." Conversely, all three educators stated that there was a dire need for teachers. "Post pandemic, students and administrators will expect workplaces to be more flexible, and we must adapt." In a surprising statement, Dr. Null pointed out a common misperception concerning property taxes and school budgets: "Increases in your property taxes mean a comparable drop in the money given to schools." The panel closed out on a familiar theme for the day: "We're very fortunate to live in Texas."
Once the setting was reverted back to accommodating a sole speaker on the dais, founder of Carrabba's Restaurants, Johnny Carrabba, gave the luncheon keynote address as conference attendees enjoyed lunch. He spoke of humble beginnings and the chances taken when being offered to partner up with a significant financial investor at the risk of losing the "family identity." He also posited the benefits of his frequently unorthodox – or at least "out of the box" – management styles. The keynote address was met with rousing applause, and shortly thereafter the conference ended for the 36th time, with preparations already underway for next year's event.
Keep updated with Woodlands Online as we attend community events and conferences of interest to The Woodlands area.