/

/

Northwest Assistance Ministries Offers Resources to Help Teens in Abusive Relationships
Northwest Assistance Ministries Offers Resources to Help Teens in Abusive Relationships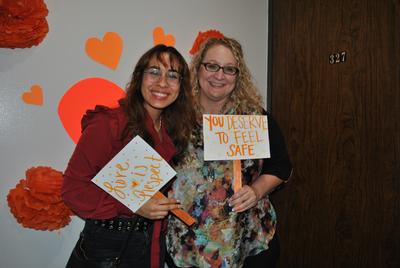 HOUSTON— February is Teen Dating Violence Awareness Month (TDVAM) and the Family Violence Center (FVC) at Northwest Assistance Ministries (NAM) is working to help teens recognize the signs of abusive behavior in dating relationships and know what to do if they see or experience it.

This year's TDVAM theme, chosen by Love is Respect, a project of the National Domestic Violence Hotline, is "Talk About It," and encourages conversations with young people about what constitutes healthy and unhealthy relationships before they end up in a situation beyond their control.

Talking about it is crucial because teen dating violence is more common than people think. One in three adolescents will be in an abusive or unhealthy relationship before they graduate from high school, and only a third of those who experience it will confide in someone.

"We welcome this opportunity, once a year, to focus activities and awareness campaigns on TDVAM," says Sheryl Johnson, director of NAM's Family Violence Center. "However, as parents and a community, we should continue talking to our teens about healthy relationships continually."

While these conversations may be difficult or uncomfortable, they are imperative to increasing safety and building confidence. Normalizing these conversations helps empower young people, letting them know they have rights in relationships and should not accept anything less than respect.

Abuse takes many forms, including physical, emotional, sexual, digital, financial and stalking. Because relationships exist on a spectrum, it can sometimes be hard to determine when a behavior is unhealthy or abusive. Signs that a relationship may headed for trouble include:

• Dramatic, unpredictable mood swings
• Excessive jealousy
• Invasions of privacy
• Controlling behavior
• False accusations
• Isolation from friends and family
• Lack of respect for personal and sexual boundaries

The ability to recognize abuse early on and get help is important because it can have a lasting impact. Teens who experience dating abuse are more likely to:

• Do poorly in or drop out of school
• Drink or abuse drugs
• Contract STDs or become pregnant
• Experience anxiety, depression or attempt suicide
• Have poor relationships with friends and family
• Experience intimate partner violence – either as the perpetrator or victim – later in their adult life

This month NAM's Violence Prevention Educator will be visiting various schools across the Klein, Aldine, Cy-Fair, Spring and Tomball ISDs promoting awareness with the FVC's Dating with Respect presentation and facilitating the FVC's Youth Empowerment Program, which focuses on teen dating violence prevention. For more information about these programs or scheduling a presentation, please contact Marina Montemayor at mmontemayor@namonline.org.

Show support for raising awareness of and preventing teen dating violence by wearing orange on February 8, 2022 as part of Respect Week (February 7-11, 2022) and take action by having conversations with loved ones about safe and healthy relationships.

Help for someone involved in an abusive relationship is available 24 hours a day, seven days a week through NAM's Family Violence Center by calling 281-885-HOPE (4673). Additional resources can also be found at www.namonline.org/family-center.

Northwest Assistance Ministries is a non-profit, community-based social service agency that strives to meet basic human needs through Neighbors Helping Neighbors. NAM provides assistance in areas such as food, shelter, health, education and domestic violence awareness and intervention. During its last fiscal year, NAM touched the lives of more than 136,000 people through its many programs and services.