/

/

The Woodlands Township adopts Resolution, appoints directors to work with TISD
The Woodlands Township adopts Resolution, appoints directors to work with TISD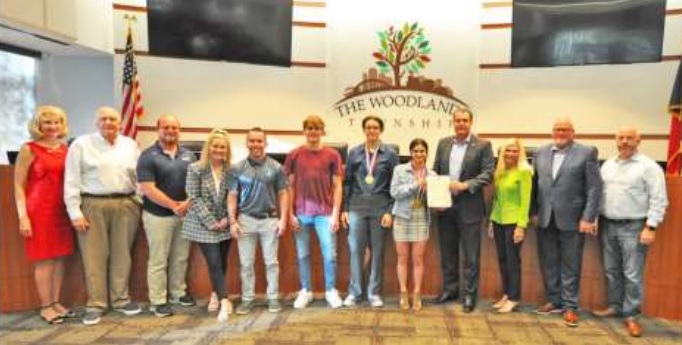 THE WOODLANDS, TX -- The Woodlands Township Board of Directors adopted a Resolution in support of a Rezoning Plan in Tomball Independent School District (TISD) which would have an impact on residents in the Village of Creekside Park.

The Resolution was approved at the Township's regularly scheduled board meeting held on March 30, 2022, supporting the option known as TISD's Rezoning Plan B.

Township Chairman Gordy Bunch read the Resolution in the public meeting. The Resolution was followed with the appointment of Township Directors Bob Milner and Dr. Ann K. Snyder to work as a committee with partner agencies, including Harris County and the Tomball Independent School District, to address school intersection crossings along Kuykendahl Road in the Village of Creekside Park.

In other matters, Township Director John Anthony Brown read a proclamation recognizing the College Park High School Wrestling Team in honor of the statewide recognitions they have achieved, and Township Vice Chairman Bruce Rieser read a proclamation in support of Global Meetings Industry Day

The Board also accepted revisions to the Township's Meeting Room Policy.

The Board accepted the financial report and adopted the 2022 Budget Calendar.

Additionally, the Board awarded a bid to Alloy Group for asbestos abatement and building demolition for the Township-owned property located at 9669 Grogan's Mill Road. View presentation. The Board also approved the contract amendment with First Class Transportation, LLC, the successor in interest to First Class Tours, Inc., for a two-year extension of commuter bus services. The Township Board also approved an amendment to the Transit Consulting Contracted Services budget and a reclassification in Transportation and Infrastructure Department staffing. View presentation.

Following the presentations, the Board recessed to Executive Session and did not take any action upon reconvening.

Members of the public addressed the Board at the beginning of the meeting. The Woodlands Township Board Meetings may be attended in person, watched live online or viewed later via recording at www.thewoodlandstownship-tx.gov/meetingvideos. The agenda and attachments may be viewed at https://www.thewoodlandstownship-tx.gov/991/Agendas-Minutes-and-More.