/

/

Shelter for Shelter event on May 5 will benefit YES to YOUTH – Montgomery County Youth Services shelter and counseling programs
Shelter for Shelter event on May 5 will benefit YES to YOUTH – Montgomery County Youth Services shelter and counseling programs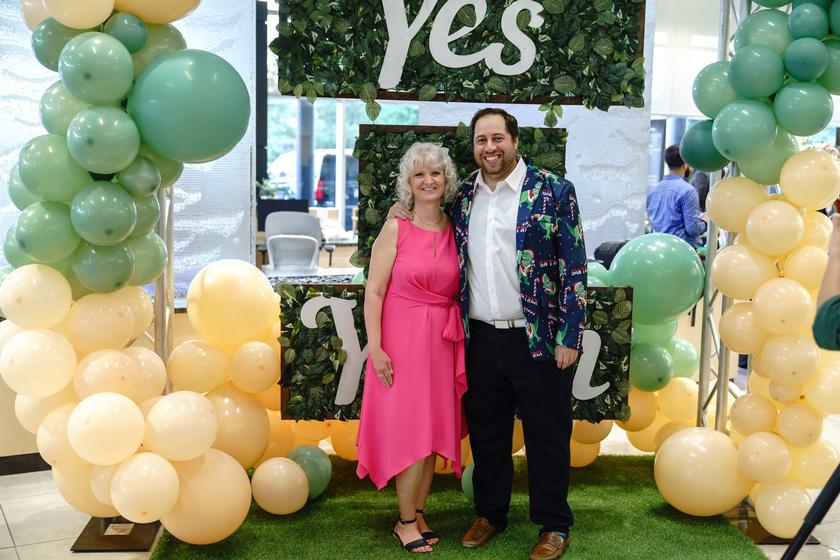 THE WOODLANDS, TX -- Make plans to enjoy an evening of food, spirits, entertainment, and networking all for a great cause at "Shelter for Shelter" on Thursday, May 5, 2022.

Benefiting YES to YOUTH - Montgomery County Youth Services, this year's event returns to Mercedes-Benz of The Woodlands with a festive Cinco de Mayo theme from 6:30 p.m. to 9:30 p.m. at 16917 I-45, just north of Hwy. 242.

The dealership's spacious showroom will be transformed into an elegant party venue for guests to enjoy fun entertainment, delicious fine food by local restaurants, and refreshing spirits, along with an opportunity to mingle with community and local business leaders.

In its sixth year, the popular "Shelter for Shelter" fundraising event is presented by Zach Richmond and his team at Richmond Realty Group RE/MAX The Woodlands & Spring.

YES to YOUTH - Montgomery County Youth Services is a non-profit organization that strengthens the emotional and mental health development of youth and families by providing crisis intervention, counseling, and suicide prevention services. It provides a safe and nurturing home where abused, battered, sex-trafficked, homeless, and at-risk youth begin healing from the past and begin healing for the future.

This year's goal is to raise $75,000. Proceeds from ticket sales and sponsorships will help fund YES to YOUTH's mental health and homeless services, which are the top, urgent priority in need of support.

"The services we provide to youth in our community who are in need are critical at this time," said Dannette Suding, CEO of YES to YOUTH - Montgomery County Youth Services. "Right now, there is an unprecedented surge of teens with attempted suicide, and we are trying to get the message out there that we are here for them. In addition, we currently have an astonishing 160 qualified families on the waiting list in need of our services, which are offered at no cost to youth and their families.

"The funds raised at Shelter for Shelter will help us meet the demand for our services by hiring more licensed counselors to serve the families of Montgomery County and to support the Bridgeway shelter. Many children arrive at the shelter with just the clothes they are wearing. We provide them with five sets of clothing, pajamas, undergarments, shoes, personal hygiene products, pillows, and sheets. We desperately need ongoing support from the community and we are grateful for the generosity of the local businesses, organizations, and individuals that participate in this important fundraising event."

This year's sponsors (to date) include Baidy Racine, Black Walnut, Blanton Advisors, LLC, Budget Blinds, City Place Relocation, The Madalyn Cooke Foundation, Constable Ryan Gable, Derrick Bryant Photography, Fleming's Prime Steakhouse and Wine Bar, Fred Greene & Rudy Wentzler, Kean Miller LLP, Kirby's Prime Steakhouse, Dr. Guy Facial Plastic Surgery, Haynie & Company, I Promote You, Liz Grimm Public Relations, MamaLycha Foods, Mercedes-Benz of The Woodlands, Michael & Vicki Richmond, Moore of Everything, St. Luke's Health – The Woodlands Hospital, Starfox Financial Services, Stull Inspections, SVN | J. Beard Real Estate - Greater Houston, PrimeLending - The Sanderson/Olson Team, Texas Center for Cosmetic Dentistry – Dr. Lewis, Texas Engineered Roofing, Tommy Bahama, Truluck's, Waste Connections, In Loving Memory of Scott Wolford, Wolford Group and WorkLodge. For the most up-to-date list of sponsors, visit https://youthmc.ejoinme.org/shelterforshelter22.

According to The Wolford Group, which has provided event management since the inception of Shelter for Shelter, sponsorships are available for $1,250 and include two tickets. Individual tickets are $125 per person. Sponsorships and tickets, as well as donations, are available at https://youthmc.ejoinme.org/shelterforshelter22. Valet parking is complimentary for the event.

For more information, please contact Brooke Baugh of The Wolford Group at bbaugh@thewolfordgroup.com or (713) 397-3093. To learn more about YES to YOUTH - Montgomery County Youth Services visit www.sayyestoyouth.org and visit their Facebook page at https://www.facebook.com/sayyestoyouth/ or call 281.292.6471 from 9 a.m. to 5 p.m. daily. YES to YOUTH also offers a 24/7 Crisis Hotline at 1.888.756.8682.