/

/

"Operation Schott in the Dark 2022" identifies and apprehends adults using the internet in attempt to exploit children
"Operation Schott in the Dark 2022" identifies and apprehends adults using the internet in attempt to exploit children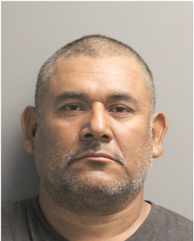 HOUSTON, TX -- The Harris County Precinct One Constable's Office and the Humble Police Department, affiliates of the Houston Metro Internet Crimes Against Children Task Force (ICAC), jointly announce the results of "Operation Schott in the Dark 2022." The agencies collaborated for the operation with the support of other Houston Metro ICAC affiliates, resulting in the arrest of seven men who intended to meet for sex with underage teens.
Seven men arrested while trying to meet for sex with teens following online chats
This operation aimed to identify and apprehend adults using the internet and social media to sex exploit children by soliciting sex and/or sex-related acts. Undercover officers used online personas posing as minors to chat in various social media apps and online platforms during the multi-day undercover initiative.
"It is imperative for parents to do all they can to protect their children from online predators," said Precinct One Constable Alan Rosen. "We are committed to keeping our children safe, and targeting those who aim to harm our most vulnerable populations."
This operation involved numerous law enforcement officers and support personnel who worked tirelessly in mid-April to effect arrests and conduct follow-up investigations.
'The success of this operation is a testament to the level of risk our children are exposed to through social media. While parents are our first line of defense against internet predators, this operation should be a wake-up call for everyone to the dangers that lurk around every corner of the internet waiting for the most vulnerable among us,' said Humble Police Chief Ken Theis.
Precinct One encourages parents to be vigilant in protecting their children from predators. If you are not actively monitoring who they talk to and reviewing the content of those conversations, you are leaving your children vulnerable to ongoing exploitation. Investigators have personally seen an increase in activity on social media platforms where predators commonly seek out children.
Arrested suspects are listed below. Unless otherwise noted, the charge for each is Online Solicitation of a Minor. If convicted, punishment for this felony ranges from probation to 2-20 years in prison.
Thanks to our partners who participated in this operation. Those agencies include:
• Houston Police Department
• Conroe Police Department
• Missouri City Police Department
• Harris County Precinct Four Constable's Office
• Harris County Precinct Five Constable's Office
• Harris County District Attorney's Office
• Fort Bend County Sheriff's Office
• Brazoria County Sheriff's Office
• Fort Bend County District Attorney's Office
• Texas Department of Public Safety
• Spring Branch ISD
• Humble EMS