/

/

Memorial Hermann The Woodlands Medical Center Honors Commitment to Keep Growing with the Community, Opens New South Tower
Memorial Hermann The Woodlands Medical Center Honors Commitment to Keep Growing with the Community, Opens New South Tower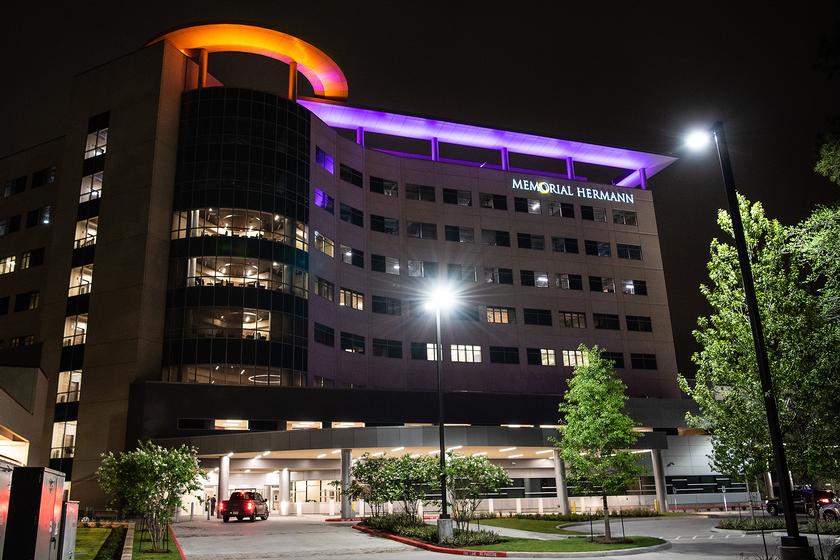 THE WOODLANDS, TX -- Memorial Hermann The Woodlands Medical Center has opened its new South Tower – the centerpiece of a $250 million expansion project that enables the hospital to better serve and meet the healthcare needs of a burgeoning population in The Woodlands and surrounding areas.

"Memorial Hermann The Woodlands has served this area for more than 35 years. While we started as a small community hospital, we've grown into a full-service medical center capable of providing a high-level of specialty care," said Justin Kendrick, SVP and CEO of Memorial Hermann The Woodlands Medical Center. "We accomplished this by honoring our promise to grow with you – our community – through the addition of physical space, but more importantly, by expanding our depth and breadth of services."

The eight-story patient tower adds more than 350,000 square feet of space to the campus. It boasts four new patient floors, bringing the hospital's bed count to more than 500; four new operating rooms for a total of 25; and seven interventional labs for advanced care for heart, neuro, trauma and cancer patients. More than 100,000 square feet of shell space in the tower will allow for additional growth in the future in areas such as endoscopy, interventional labs, patient care, diagnostics and more.

The hospital's main entrance, which formerly faced Pinecroft Drive to the west as part of the original facility design, is now located in the new South Tower and faces south toward Medical Plaza Drive. Additionally, a new enclosed skywalk connects the South Tower to the largest parking garage on campus. With its expanded capacity, Memorial Hermann The Woodlands is now able to offer 3,412 free parking spaces.

The South Tower also houses The Howard Hughes Corporation Community Conference Center, consisting of nine areas for educational seminars and meeting space, and the Woodforest Bank Community Terrace, a unique and beautiful outdoor space for patients and their families, guests, physicians and hospital staff to relax or connect.

"We are truly grateful to our partners, including Woodforest National Bank and The Howard Hughes Corporation," added Kendrick. "They were instrumental in bringing the community spaces in the South Tower to life and we couldn't be more pleased with how they turned out."

Now that the South Tower is open, plans are underway to renovate and expand 137,952 square feet in other areas of the hospital, including food services; imaging; surgery support; pharmacy services; TIRR Memorial Hermann The Woodlands; orthopedic services; and in-patient care areas.

The expansion also is creating more job opportunities for area residents. As the largest healthcare employer in Montgomery County, Memorial Hermann The Woodlands employs 3,150 individuals and is currently growing its team. Qualified candidates can learn more at www.memorialhermann.org/careers/.

For more information on Memorial Hermann The Woodlands Medical Center, visit https://www.memorialhermann.org/locations/woodlands.