/

/

Amrina Sets Opening Date In Waterway Square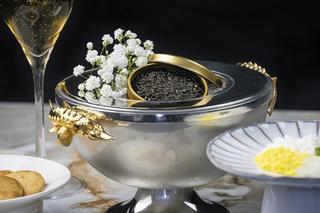 THE WOODLANDS, TX -- Kahani Social Group, a luxury hospitality group dedicated to creating all-encompassing, unique social experiences, today announces the opening date of Amrina for Friday, June 17, 2022. Under the direction of brothers Surpreet Singh and Preet Paul Singh, and perfected by Chef Jaspratap "Jassi" Bindra, who has been named in the "World's Best Indian Chefs" article in the Hindustan Times and was honored with a Michelin Plate in the 2019 Michelin Guide. Amrina is set to bring distinctive Indian-inspired dishes to Waterway Square in The Woodlands.
Highly Anticipated Luxe Indian Restaurant Brings Experiential Dining to The Woodlands
"We envisioned opening a restaurant of this caliber over six years ago," said Surpreet Singh, Co-Owner of Amrina and Co-Founder of Kahani Social Group. "I am pleased to announce that Amrina is ready to open its doors to the public and our team is prepared to offer our guests an elevated, tasteful experience of eclectic Indian cuisine."
Drawing inspiration from a young Indian princess who lives amongst us in this modern day, Amrina offers an exceptional and niche dining experience with an inventive approach to food and cocktails, set in a delightful and romantic atmosphere. Kahani Social Group's knowledge of the luxury industry, paired with Chef Bindra's award-winning talent, has resulted in a concept that will pamper and tease taste buds with new food, both Indian and globally inspired, often fusing together all-world techniques and ingredients, and an atmosphere that celebrates togetherness.
To achieve Executive Chef Bindra's vision of creating a voyage of taste, texture and temperature, Amrina utilizes only the finest ingredients sourced from local growers and all spices are blended in-house to guarantee the freshest flavors. Amrina's menu features saporous dishes including India's quintessential Holy Moly Breads to begin an adventurous meal, along with unique Canapés with choices of the finest caviar services or small plates such as the Charred Octopus with pickled onion, zaffrani potato and chermoula vinaigrette. Amrina's entrée highlights include the sizzling Red Wine Braised Lamb Steak with truffle umpa, cilantro gremolata and chili rogan, which pairs perfectly with delectable side dishes such as the Tandoori Mac and Cheese. Desserts include Cardamom Chocolate Mousse complemented by a 24-carat gold kiss filled with jaggery caramel. Complement your meal with a palatable libation from Amrina's extensive wine list of over 800 labels, perfectly curated by their on-site sommelier. For a stronger option, pick from the menu of uniquely crafted cocktails.
"Amrina highlights food from all regions of India, looking through the eclectic lens with spotlight ingredient in each dish," said Bindra. "Our team has developed a menu to excite the tastebuds of our guests in a way they have never tasted before."
Amrina is located at 3 Waterway Square Pl #100, The Woodlands, TX 77380 and is open for dinner and nightlife. The hours of operation are Monday through Thursday, 5 pm to 10 pm and Friday to Saturday, 5 pm to 2 am. Plans for lunch, happy hour and Sunday brunch will be announced soon.