/

/

AMRINA: the new Eclectic Indian Restaurant Opens with a Bang with a Private and Extravagant Night
AMRINA: the new Eclectic Indian Restaurant Opens with a Bang with a Private and Extravagant Night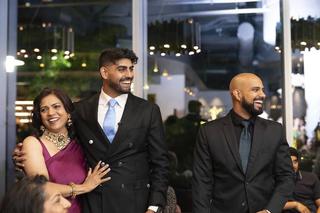 THE WOODLANDS, TX -- Kahani Social Group, a grandeur hospitality group dedicated to creating all-encompassing, unique social experiences.

Amrina, an exceptional, thought-provoking restaurant with an inventive approach to Indian food, cocktails & wine pairing. It is the first concept designed by Kahani Social Group offering a unique social experience set in a thoughtful, yet modern atmosphere

Amrina celebrated its grand opening in dazzling style with a private affair on Wednesday, June 15. The glamorous night set a precedent for sensational dining in The Woodlands with a colorful array of entertainment, unique cocktails and hors d'oeuvres created by Chef Jassi Bindra

Upon arrival, guests were greeted at a red carpet with bubbly served by an alluring lady dressed in glasses of champagne. As the night progressed, arial and acrobatic dancers charmed partygoers at every turn as they made their way through the thoughtfully designed restaurant. Musicians also made their way around the restaurant harmonizing their saxophone, guitar or violin with the beats of the DJ. The eclectic interior divided into multiple electrifying and meaningful zones, which served as the perfect backdrop while guests mingled and sipped on fine wines and tasted the exotic passed hors d'oeuvres such as yellowfin tuna golgappa poppers and ostrich seekh kabobs followed by desserts such as rose and pistachio flavored macarons. At any time of the evening, guests could treat their salty cravings with caviar paired with lemon foam and naan blinis served at a table engineered completely of ice.

As the night came to a close, owners Preet Paul Singhand Surpreet Singhgave speeches on the meaning behind the name "Amrina", paying homage to the powerful women in each of their lives. Chef Bindraand Giorgio Ferrero, the General Manager and on-site sommelier, followed with remarks speaking to how Indian culture is the soul of the restaurant and how Amrina intertwines fine dining and social experiences. The night ended with guests craving more as they quickly reserved tables to experience Amrina during opening week, hoping to "naan" miss out.