/

/

Richard Franks Announces Bid for The Woodlands Township Director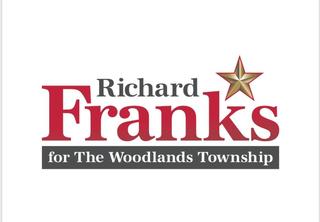 THE WOODLANDS, TX -- Richard Franks, a retired business owner and decorated veteran, announced his campaign for The Woodlands Township Director. Franks, who is married to Pamela Franks, a local realtor with Compass Realty, has lived in The Woodlands for 12 years and has owned property in The Woodlands for nearly 16 years.

A Bronze Star recipient, Franks, was a First Lieutenant in the United States Army, serving as a platoon leader and Executive Officer of a tank company at Fort Hood. He also held several positions with the 11th Armored Cavalry Regiment and the Military Assistance Command in the Republic of Vietnam. He was awarded the Army Commendation Medal, first Oak Leaf Cluster.

After his military service, he earned his Master's Degree in Public Administration, and then served as a city administrator in the Midwest. He later owned and operated several communications and print media companies across the United States. He and Pamela ultimately chose The Woodlands as their home.

"I love The Woodlands," said Franks. "I've always been active in my community, and when the incorporation fight came up last year, I just could not sit back and let them change this beautiful community. I fought hard alongside my neighbors to defeat incorporation and strongly believe we need real representation on the Board, representation that listens to the residents."

Franks and his wife live in Panther Creek. They have four grown children and six grandchildren.

More information is available at Vote4RichardFranks.com or DONATE here.