/

/

Conroe ISD School Board Candidate Aims to Improve the School District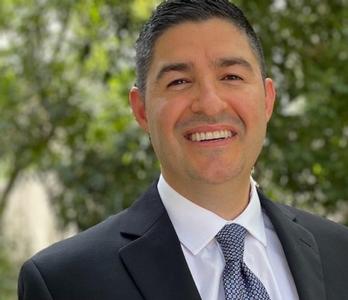 CONROE,TX -- Serafin Farias, a father of four children currently attending Conroe ISD, is running for Position 1 on the CISD School Board. He recently released his "Why I Am Running" statement for residents to read.

My name is Serafin Farias and I am running for a seat on the Conroe ISD School Board. My family and I have lived in our school district for over 8 years. I have 4 children currently enrolled in the district attending elementary through junior high. I am running for a seat on the school board because as the father of 4 Conroe ISD children, I am fully invested into the success of our schools.

Like many of you, I experience first-hand the education many of our children are receiving in our school district. I have seen the incredible love and sacrifice our school district employees have given to teach our kids, and I have observed the strain imposed upon them by the rapid growth of our district.

Two years ago I decided to run because I felt our school district needed to focus more on the areas most important to the education of our kids. It is my goal in running to do just that. I will strive to put a focus on teaching our children the skills and knowledge they will need to be successful once they graduate from high school. It is my goal to focus on academics. It is my goal to focus on education.

Our district is good, but it can be better. Conroe ISD is considered a "B" (89) school district according to the Texas Education Agency (TEA) this year. I intend to focus on what it will take to become an A school district. This focus is important to our children today, and it is important to the children that will come through our district in the future. The unfortunate truth is that although we have parts of the district that are A-rated, parts of the district are C-rated. The confluence of these areas brings our overall average level to a B. If we want to improve our district, we must put more focus on these areas and ensure that our educators have the resources and support they need to be successful. It is our responsibility to ensure all children of Conroe ISD are given the best education possible.

I am running because I have ideas I believe will benefit all schools in our district. A key focus will be to lower the student-to-teacher ratio. According to our district's home page, we have "68,000+" students. According to the TEA, we had 4,110 full-time equivalent teachers in 2021. This makes our student-to-teacher ratio a little over 16.5:1 when the average in Texas is 15:1. Focusing on improving this metric is one way we can improve all of our children's educations.

I think we have a good, strong school district, but believe there are several areas we can focus on and improve.

1) Improve our teacher-to-student ratio as this directly affects how well teachers teach, and how well our children learn. Our district's growth has outpaced the number of teachers we have and this is directly affecting our children's education. We must hire more teachers.

2) Ensure our teachers have highly competitive pay. We must seek to retain the valuable men and women that work tirelessly to educate our children from kindergarten through 12th grade.

3) Increase the availability of after-school academic activities. I have a passion for STEM (science, technology, engineering, and mathematics) and would encourage us to improve our district in these subject areas. I'm particularly passionate about competitive UIL mathematics. It's available in our district but its reach can be widened.

4) Ensure a diploma from Conroe ISD will mean more in the future. Our district needs to focus on making sure our children are well prepared for college, life, and work after graduating high school.

I am like many of you, a parent concerned about their child's education. I believe my perspective and experience will help improve our district. I will be a tireless advocate for improving our children's education and making our Conroe ISD even stronger.

For these reasons, I ask for your vote.

Serafin Farias is a resident running for Conroe ISD Board of Trustees Position 1.