/

/

Industry leaders provide an electrifying time at The Woodlands 2022 Energy Innovation Summit
Industry leaders provide an electrifying time at The Woodlands 2022 Energy Innovation Summit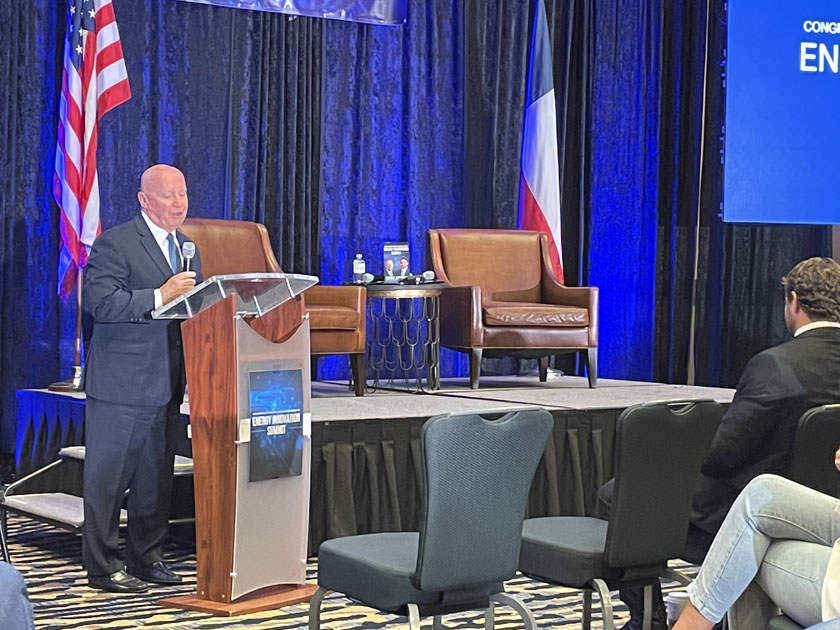 THE WOODLANDS, TX – Earlier this week at The Woodlands Resort, US Congressmen Dan Crenshaw and Kevin Brady presented The Woodlands with the 2022 Energy Innovation Summit, a frank and deliberate panel discussion on the status of energy in our country. With innovative solutions being promoted with an all-of-the-above approach to resource renewals, guests listened intently to industry leaders as they guided them through impactful ideas that surprisingly are not years away, but in many cases exist today.
Critical world energy solutions top Dan Crenshaw's agenda
From using hydrogen as stable, lower cost energy storage to producing electricity from machines that run on CO2, CEOs from local and global corporations broke out their trusty videos and charts, detailing the critical nature of the world's energy crisis and how each company was leading the way with technology advances in emission capture, carbon neutrality, resource recycling and repurposing, as well as other topics.
To kickstart the summit, Congressman Brady welcomed the packed house and introduced their guest speaker, former Texas Governor and Energy Secretary, Rick Perry. Perry emphasized the urgency of not destroying the options of nuclear and fossil fuels, as well as, the importance of Texas being the driving force for advanced technology in the energy sector. Congressman Crenshaw also gave a rousing speech on a possible bright energy future and was also the host for the event. He spoke with each energy company, asking questions about how their company impacts our society, while allowing them to expand on their area of energy expertise and proposed solutions.
The discussion was casual and friendly with the speakers offering proven solutions that are not talked about in today's polarized political back and forth. The summit's purposes was to shed light on creative energy solutions as well as push back on the notion that fossil fuels are bad and that the only meaningful fixes to our energy crisis is solar and wind. An encouraging note was that each speaker advocated for advancing all energy sources, from wind and solar to small modular nuclear reactors, expanded oil exploration, and closed-system CO2 energy-producing solutions.
Summit speakers included:
US Representative Kevin Brady
US Representative Dan Crenshaw
Former Governor & Energy Secretary Rick Perry
Peter Huntsman - President & CEO of Huntsman
Ron DeGregorio - CEO of Net Power
Mark Newman - President & CEO, Chemours Company
David Duren - Chairman & Founder of Circon Energy
Edward Stones - Business Vice President of Energy and Climate, Dow