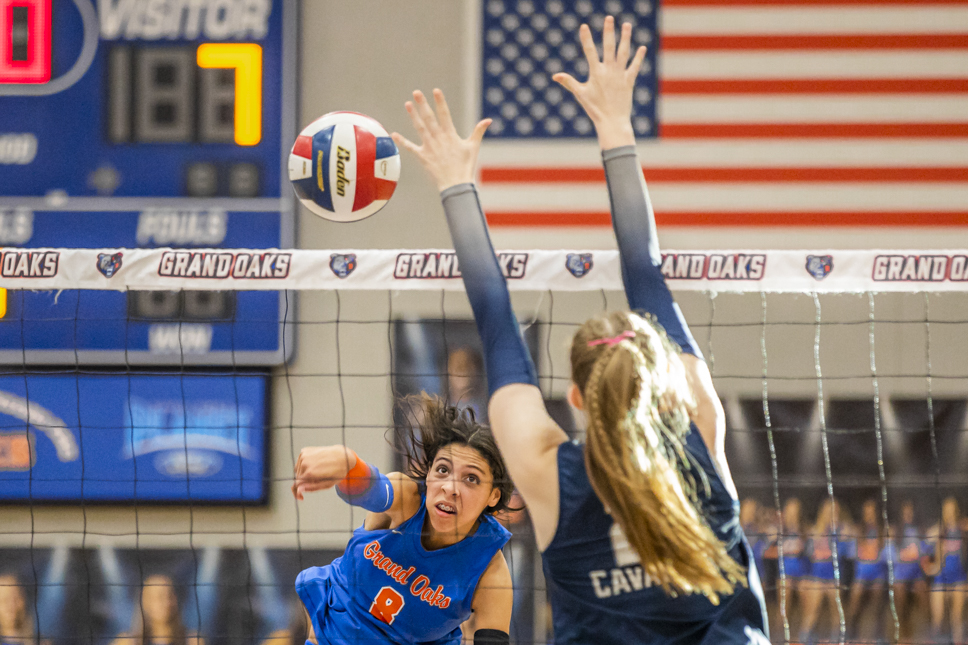 THE WOODLANDS, TX -- Tuesday night the Grand Oaks Grizzlies hosted the College Park Lady Cavaliers in a 13-6A district volleyball match. Grand Oaks currently sits at 7-1 just behind The Woodlands, and College Park sits in the middle of the rankings with a 4-4 record.

Set one began and immediately College Park came out aggressive with massive kills and strong defense. Although Grand Oaks needed to get their rhythm, once they did, they would match point for point against College Park. The Grizzlies would also show great net defense as the Cavaliers tried to attack on every point. Grand Oaks would push past College Park and hold them to a 25-20 set win.


College Park comes out aggressive but Grand Oak's defense pushes them to a first set win.@grandoaksvb @CPVBCavs pic.twitter.com/Zmo1lVfxbN

— Woodlands Online Sports (@WOLsports) September 27, 2022
Going into the second set, College Park once again came out aggressive matching point for point with Grand Oaks. They were also able to tie the set three times but could not close out Grand Oaks. They would essentially fall but not without a fight, 25-20.
College Park keeps things interesting as they tie it up 3 times. Grand Oaks takes the second set 25-20. @grandoaksvb @CPVBCavs pic.twitter.com/qMM1c2tcCw

— Woodlands Online Sports (@WOLsports) September 27, 2022


The exciting tone of the game was set by the Grand Oaks student section who came out to support the girls in their match against College Park. With the cheerleaders leading the chants, the student section would grow increasingly loud as College Park tried to serve. This makes for an exciting game along with the close action between the two teams.

The final set was full of excitement as College Park and Grand Oaks hits the floor. College Park would tie the game at six a piece but Grand Oaks would run past them. Although down the Cavaliers were not out and fought to the end. The set would be tied another five times before Grand Oaks would finally take the set and the match 25-19.


Grand Oaks goes on last minute tear to win the third set and match, 25-19. @grandoaksvb @CPVBCavs

Final
Grand Oaks - 3
College Park - 0 pic.twitter.com/vQXfl7i70j

— Woodlands Online Sports (@WOLsports) September 28, 2022


College Park is set to face Cleveland at home on Friday while Grand Oaks takes on Caney Creek on the road.