Tidal Aviation Expands Offerings With Opening of Cirrus Authorized Service Center in Conroe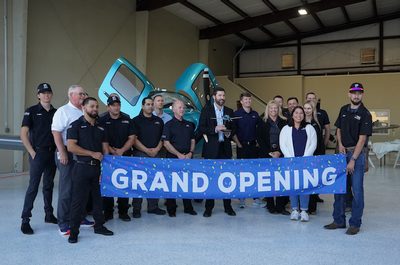 CONROE, TX -- Tidal Aviation today announced its latest expansion with the opening of its Cirrus Authorized Service Center at the North Houston Regional Airport (KCXO) in Conroe, Texas. Tidal Aviation's North Houston Cirrus Authorized Service Center employs technicians trained on both Cirrus' SR-Series piston aircraft and Vision Jets.
Provides Houston-Area Cirrus Aircraft Owners Easy Access to genuine Cirrus Aircraft Parts and Authorized Maintenance/Warranty Work
"As a longtime Cirrus Platinum Partner, we are proud to bring our Cirrus aircraft maintenance and servicing expertise to pilots and owners in the North Houston region," said Reid Nelson, President of Tidal Aviation. "For more than 10 years, we have focused solely on Cirrus Aircraft flight training, maintenance, management, rental, sales, and charter services. Our thousands of Cirrus-aircraft specific logged hours enable us to truly understand and provide the best service possible for our clients."
Our Service Center has trained technicians with access to genuine Cirrus Aircraft parts and the latest procedures to ensure your ownership experience includes world-class service and support.
We perform annual and phase inspections and; propeller, engine, and avionic troubleshooting; as well as discrepancy diagnosis and correction. Additional service offerings also include composite and paint repair, warranty support, Garmin and Avidyne avionics servicing, and air conditioning service.
Tidal Aviation's Cirrus Authorized Service Center is located at KCXO - Conroe / North Houston Regional Airport, 5020 Central Parkway, Hangar 17-B, Conroe, TX 77303.The hangar is located off Taxiway Romeo.
To schedule service, call 936.444.2296 or to learn more about Tidal Aviation's, visit TidalAviation.com.