Girl Scouts of San Jacinto Council to host 2,500 girls and adult volunteers in Conroe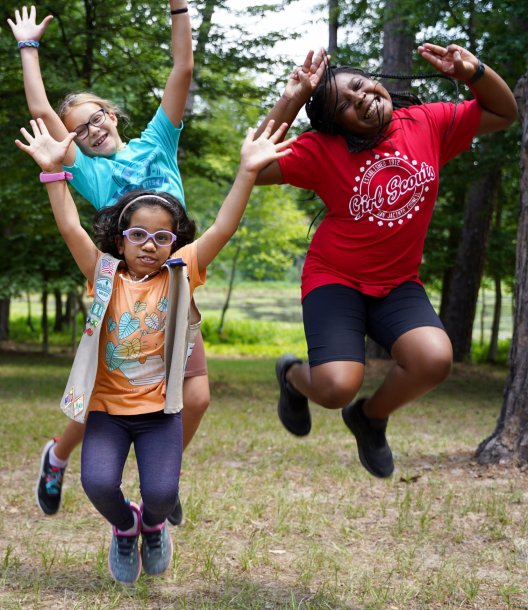 THE WOODLANDS, TX – Girl Scouts of San Jacinto Council will host more than 2,500 Girl Scout members and adult volunteers for its 100th Anniversary "Celebration of the Century" on Saturday, December 3, from 7:30 a.m. to 6 p.m. This much-anticipated event will be held at Camp Agnes Arnold and Misty Meadows Ranch in Conroe.
A 100th Anniversary "Celebration of the Century" will take place on Saturday, Dec. 3
The Celebration of the Century features a full day of carnival entertainment and Girl Scout activities including fireworks, magicians, jugglers, balloon artists, face painters, and live DJs. Girl Scouts will explore the camps and enjoy petting zoos, scavenger hunts, new and old crafts, inflatables, horses, zip line, canoeing, archery, and many other outdoor activities.
"Our council has been celebrating this impressive milestone anniversary since the beginning of 2022. Since 1922, hundreds of thousands of Girl Scouts in our 26-county council have developed the courage, confidence, and character to make our world a better place. We are especially grateful to our amazing volunteers, Girl Scout families and supporters for improving the lives of girls and young women through Girl Scouts, past, present, and future," commented Connie Chavez, chief external affairs officer of Girl Scouts of San Jacinto Council.
Historical Highlights
On March 12, 1912, Juliet Gordon Low founded Girl Scouts of the USA. Girl Scouts in Houston was established in 1918 as Daisy Troop 1 by Captain Erlene Tysinger as part of her Sunday School class activities. Today, Girl Scouts of San Jacinto Council is one of the largest councils in America and supports more than 35,000 girl members thanks to the support of nearly 14,000 adult members and volunteers.