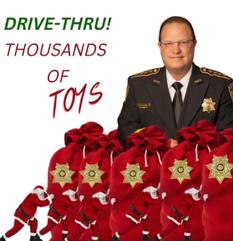 HOUSTON, TX -- Constable Alan Rosen is now accepting registration for his annual toy giveaway. Beginning today, families with children ages 4-10 can register online.

"This is an incredible event that brings smiles and holiday cheer to thousands of kids every year," said Constable Rosen. "I look forward to making this year's toy giveaway our biggest one yet."

To register:

• Children must be ages 4-10 years old.

• Date, time, & location will be given upon registration.

• You must bring children day of the event.

• Anyone can register.

• You must register and receive confirmation.

Registration is on a first come, first served basis while supplies last.

Register by logging on to Constable Rosen's website at: www.pct1constable.net or visit his Twitter @ConstableRosen.

Students and individuals in need of community service hours are invited to volunteer for this monumental event. For more information or to volunteer call the Office of Community Outreach at 713-755-3372.