/

/

Rumble Boxing comes to The Woodlands' Village of Creekside Park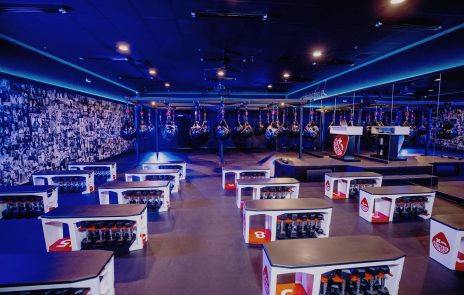 THE WOODLANDS, TX – Rumble Boxing recently opened its latest location right here in The Woodlands in the Village of Creekside Park at 26435 Kuykendahl Rd Suite 200.
Q&A with company's president, Shaun Grove
Rumble is a group fitness concept delivering a combination of boxing-inspired circuits and the transformative power of resistance training. Founded in 2017, Rumble is one of the fastest-growing fitness franchises in the world with more than 35 studios around the country with many more opening this year. In addition, Rumble has an international presence with locations in Australia and the Dominican Republic and studios set to open in Mexico and Kuwait.
Rumble offers a studio for pro and amateur fighters to glove up together, no matter their fitness level or skill, to reveal their inner fighter. The experience is a 10-round, 45-minute fight which is evenly divided between two styles of training. Half the class is spent exploring the skills and drills of boxing, and the other half is spent on the transformative power of resistance training.
Rumble classes have attracted celebrities such as Justin Bieber, Selena Gomez, Kendall Jenner, Hailey Baldwin, Jason Derulo, David Beckham, and Kevin Hart.
Woodlands Online recently sat down with Shaun Grove, president of Rumble Boxing for a question-and-answer session about him, his history, and his company.
When and how did Rumble Boxing begin? What's your personal history with boxing and how did it translate to a fitness program?
Rumble was born in New York City in 2017 to shake up the boutique fitness scene and took inspiration from street culture and social vibes – so it's a lifestyle brand by nature. It was founded by Noah Neiman, former Barry's Bootcamp Master Trainer, and cast member of Bravo's Work Out New York; Eugene Remm, co-founder of Catch Hospitality Group whose properties include Catch Restaurants, CATCH STEAK, and Lexington Brass; Andy Stenzler, co-founder of Cosí and Kidville; and Anthony DiMarco, 13-time IRONMAN and former Managing Director at Google.

My personal history with boxing goes back to 2009 when I started working as general counsel for an LA Boxing franchise, owned by our CEO and founder of Xponential Fitness, Anthony Geisler. As a former college footballer, I immediately felt at home in the fitness world. A few years later, I had four LA Boxing franchises of my own and remained general counsel when UFC Gym acquired LA Boxing. Anthony was then looking at new ventures and went onto buy Club Pilates, where I came on as president; from there we grew the brand into the household name that it is today. Xponential was formed following the success of Club Pilates and we acquired Rumble in early 2021 where I am now president. Rumble is a totally different experience compared to LA Boxing but the expertise we've built as a franchisor all started with LA Boxing.
Where was the first location, how did it geographically grow, and what prompted you to make The Woodlands area the site of your latest facility?
The first location was Chelsea in New York City, then NoHo, West Hollywood, Upper East Side in New York City and other targeted major cities across the country before Xponential acquired the brand in early 2021 and began expanding across the country by franchising. While we do target key markets in our marketing approach, our expansion is driven by where our franchisees want to open a studio and our owners of Rumble Boxing Creekside, Jedd and Jami Mosher, targeted this particular area.
What are the benefits of boxing-based fitness classes? What separates this workout from other 'normal ones,' including fad exercise programs like Jazzercise from the past? Is it here to stay?
The benefits of boxing are endless: stamina, coordination, and cardiovascular health; pair those with the transformative power of strength training and the benefits extend even further into your mental confidence and less anxiety.

Because Rumble is a unique combination of boxing and strength training in a party-like atmosphere, you get to work the body from head-to-toe like a boxer would in the ring, but instead of hitting an opponent, you get to hit water-filled punching bags that are easy on your joints and fun to hit.

Rumble Boxing has close to 300 licensed locations so we have many franchisees entering the site selection and development process, several of which will be in Dallas and Houston, so the trend to find a workout that you will enjoy and in-person connection is not going out of style any time soon!
Tell us about the classes – their size, age range(s), and expertise levels.
Zero experience necessary! Members span a wide range of ages and fitness levels. You may see first-time boxers next to Rumble pros. No matter your fitness level, we glove up and Rumble together.

There are 48 spots – 24 aqua-filled bag spots and 24 bench spots. Each 10-round, 45-minute fight is split evenly between boxing and strength training on the floor side.
What can someone new to your location expect to find when he/she walks through the doors? What's the overall experience?
Rumble Boxing Creekside is the first location in The Woodlands in the Creekside Park West Center. When you enter the studio, you'll see the trademark Rumble Boxing white glove wall and "JAB" aqua-bag, plus a high-end retail boutique in a warm, inviting atmosphere. All guests will have a locker space with gloves and wraps available and a dedicated bag side/ floor side spot for class. Before each workout, the trainer will review everything you need to know, like the six punches and the rundown of the workout.

Rumble trainers and studio teams always bring the energy and fun. You can expect to leave already excited for your next class.
To learn more about Rumble Boxing, visit
www.rumbleboxinggym.com/location/creekside
.